New to little Indiana? Subscribe for free to my RSS feed. Thanks for stopping by!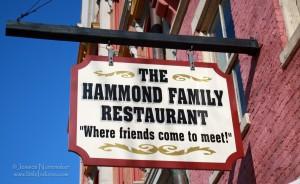 Madison, Indiana: Hammond Family Restaurant
Hammond Family Restaurant in Madison, Indiana is one of the first businesses we walked past during our first trek through town.
Hubs informed me that a leprechaun urged him to make it a point to eat breakfast at Hammonds. Who can ignore a leprechaun?
Hammond Family Restaurant in Madison, Indiana
We certainly didn't–and thank goodness because Hammond Family Restaurant was fantastic!
Seated in a booth or at the counter, you can't help but notice the many, many caricatures surrounding you. From yellowed pages to gleaming white, these pages have taken over the walls. It's obvious that these span a few years.
But you won't see Brad Pitt or Julia Roberts' likeness here. The faces surrounding you are all regular customers!
A local artist pops in every now and again, sketches someone having coffee or enjoying the biscuits and gravy, then takes it home, colors it up, and brings it back.
Great Breakfast, Local Flair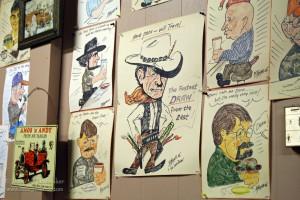 Madison, Indiana: Hammond Family Restaurant Caricatures
The menu is simple. Eggs, biscuits and gravy, french toast, or pancakes. Combine it with your choice of potatoes and toast and breakfast is served.
Hubs went for the Hardworkers Breakfast. Apparently little Indiana traveling is hard work or something.
The kids and I went for different versions of eggs–with bacon.
Everything was delicious and generously portioned at this Jefferson County restaurant. Kid #1 ate and ate and ate.
Go There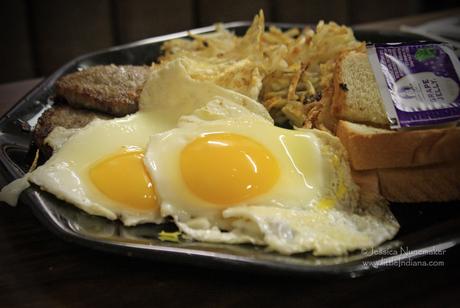 Madison, Indiana: Hammond Family Restaurant Breakfast
Folks were talking and joking with each other about bridge construction, an upcoming semi-formal dance, and everyday life.
At Hammond Family Restaurant it's comfortable, good, and affordable. I can't recommend it enough. In this case you don't have to take my word for it–just ask the leprechaun!
Just don't forget to tell 'em that little Indiana sent you. Watch a snippet from Hammond Family Restaurant on YouTube or below!
Find Hammond Family Restaurant and other pictures in Indiana on my Flickr photostream.


Hammond Family Restaurant
221 East Main Street
Madison, Indiana 47250
812.265.3237

View Larger Map
little Indiana: Where to Stay, Play, and Eat in Small Towns in Indiana. Discovering Indiana's best small towns! Now get little Indiana on your Kindle.
Targeted. Relevant. Affordable! little Indiana Advertising