It seems like everyone is blogging about various creepy crawly things this month….I had to jump in and think of something different. Lots of people are blogging about their favorite or best horror movies to watch this month. I think that's great but I am going to give that a little twist….
Obscure, low-budget horror! Its one of my secret obsessions. I have dozens of the low budget gems lining my shelves down in the basement (where ManLand is located)…so I am going to try and talk about as many of the low-budget Indie horror movies that I can this month!
First on the list is a beauty titled "It's My Party and I'll Die If I Want To"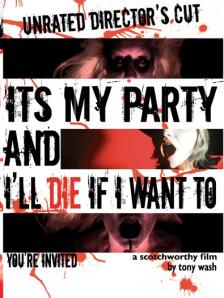 Anyone seen it? Its really good! I was lucky enough to win it from a horror podcaster.
It was made in 2007 and its a Scotchworthy Productions directed by Tony Walsh for around $30k!
The coolest thing about this movie: its a CHOOSE YOUR OWN ADVENTURE movie!!!!!!! That's right at several key points in the movie you get to decide what the character does next. Its so awesome!!!
The plot: a girl is celebrating her 18th birthday at a house that is haunted…and a family was killed there! It gets pretty bloody.
go find it!!