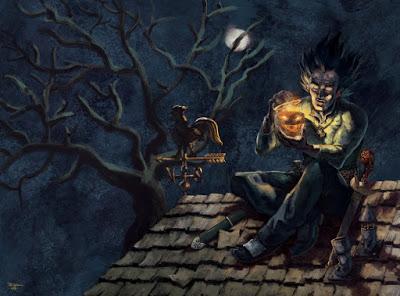 While most halloween-fanatic out there faces the looming clinch of trick or treat in anxious suspense, carpe carmina's readers are definitely in for a treat this very october's eve: mexico-based rock-musician Kevin Morgan raised the veil and chatted frankly about his life and death, about feeling like a zombie and dressing up as Bowie, talked movies and music, told the story behind his latest release 'The Things I Do' and explained his love for moody and groovy horror-track 'Lobo-hombre En París'. Now, put your witch hat on, adjust your vampire teeth and get into the right mood for what is one of the most eerily beautiful and arcane nights every year while learning all about Kevin Morgan and his scaryroutines. 
Think about spooky halloween tracks - which would make your playlist aside from Michael Jackson's classic 'Thriller' and why?
Halloween &The 80's go hand in hand .. So here's a special playlist for anyone who wants to recreate a John Hughes movie. Donnie Darko fans, relax. I got you covered too.
01. Under the Milky Way - The Church
02. Enjoy TheSilence - Depeche Mode
03. Love My Way - The Psychedelic Furs
04. How Soon Is Now? - The Smiths
05. Hungry Like The Wolf - Duran Duran
06. Pale Shelter - Tears For Fears
07. Bizarre LoveTriangle - New Order
08. Fascination Street - The Cure
09.Always Something There To Remind Me
- Naked Eyes
10. Maneater - Hall &Oates
11. Ashes to Ashes - David Bowie
12. Eyes Without A Face- Billy Idol
13. 99 Luftballons - Nena
14. Time of The Season - The Zombies
15. Heart Of Glass - Blondie
16. Rock The Casbah -The Clash
17. Suicide Blonde - INXS
18. The Killing Moon - Echo and The Bunnymen
19.  Tainted Love - Soft Cell
20. Don't You Forget About Me - Simple Minds
21. I Scare Myself - Thomas Dolby
Pumpkin carving is on - after all your house should be halloween-ready, right? What music would you choose to keep you going while creating spine-tingling decoration?
That calls for something atmospheric .. I can't recommend enough Bohren & der Club of Gore. A

g

erman outfit with a self described "Doom-Ridden Jazz" sound.  Their albums

'

Sunset Mission

'

and

'

Dolores

'

are a great first step for any aspiring Noir Detective or Halloween Decorator.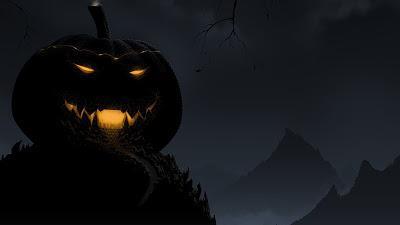 Decisions, decisions. You need to pick this year's halloween costume and want to dress up as the undead version of a musician you admire and whose music has inspired your own. Who would it be and why him?
That's easy. David Bowie. We died the same day.
If you wouldn't dress up as said musician, what kind of costume would you go for?
The old standby has always been my bowler hat, fake eyelash, and dandy white jumpsuit. Anyone up for a bit of the ol' ultra violence?
What is the scariest thing you have experienced in life and how has it influenced your music?
Dying for 15 minutes and waking up from a coma 10 days later. Coincidentally the first thing I remember was asking my mother to put on

'

Young Americans

'

by David Bowie. 

I've been picking up the pieces ever since.. The first few months were just me locked in a room. I couldn't move much. I think I went crazy. Do zombies go crazy?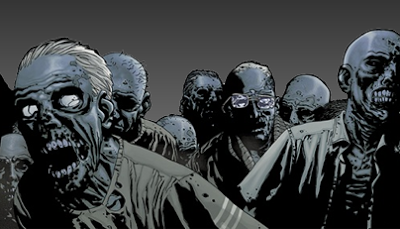 Trick or treat - Are there any news about your forthcoming EP you can spill or is it all top secret and you can only tease our dear readers with vague hints?
The world ends in 2017. 
[That's very vague

... and dark

indeed ;)]
Imagine you are asked to produce a halloween-themed music video for a song of yours. Which one would you choose and how would it look like 
'Crowdstopper' ..You can play the vampire, Nessi.
[What a tempting offer - I might just hold him

to

th

at

;)]
Do you have a concept or an idea for music videos visualizing the songs featured on your fourthcoming EP 'The Man Who Lived Twice'?
Black &White. Minimalistic. Thought

-p

rovoking. I'd love to make a short movie for each one. I'm quite the cinephile.. I'd probably end up directing them myself. 
'The Things I Do' is the title of your latest single release, which will also be featured on your new EP. Tell us a little bit more about it - what has sparked the idea behind the song, what is the story behind recording and producing it, what made you release it as first single after your hiatus?
'The Things I Do' was conceived after a terrible break up with my high school sweet heart. I was 18 at the time and couldn't handle it. So I left the States and flew to Mexico. I lived there alone in exile for a few years to get away from it all. This song was the first thing I wrote. In my fantasy world, I wanted to record it and send it to her. Let her fall in love all over again. Unfortunately, that never worked out. So here it is, three years late and some added lyrics to make sense of it all. The composition itself is deceptively simple.. But isn't that how love is?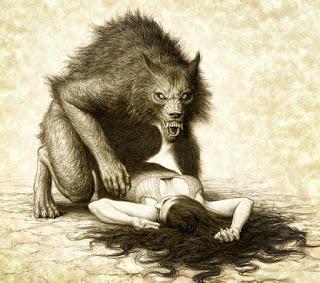 You're casted for a halloween horror movie and your role includes picking up an acoustic guitar, playing a song of choice at a full moon, before your werewolf curse is triggered and you have to hide in the woods (this sounds as if it's a very likely scenario, doesn't it?). What song would you decide to play?
'Lobo Hombre En Par

í

s' - La Un

ió

n ..Werewolf in Paris. There are so many feelings attached to this song, I doubt the full moon would be necessary.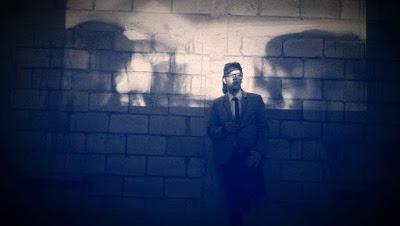 Reach out & listen to Kevin Morgan on ...
.. twitter ...
.. facebook ...
.. soundcloud ..