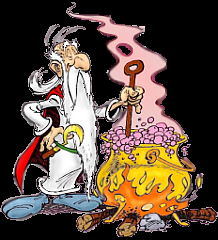 The druid of Asterix and Obelix cartoons
Centuries ago in a part of Italy there was a population well know all over the world. I'm speaking about the Celts.
There are many legends about that population. 
In De Bello Gallico, written by Giulio  Cesare is clearly specified that Europe was occupied by two main groups: the Celts ( and their many tribes) and the Germans.
Now, there is a liason between the Celts, Italy and Halloween. 
They had a celebration called  

Samain

: it was the Celtic new  year eve with bonfires and ceremonies. The day of this event? 31 October. They also believed that Samain could have been a good opportunity to keep in touch with the spirits and the netherworld. They celebrated at the same time their dead and the beginning of the new year. All was a very happy moment and an occasion to have  a party all night long.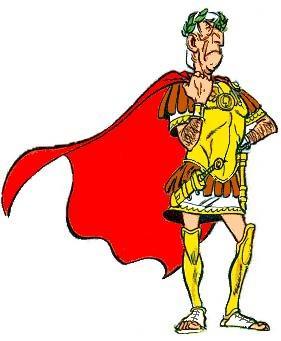 Giulio Cesare
Now the main origin of all these tradition is not Italy but England and Ireland but the geographic boundaries were different during the Celtic age so in the area of Italy where they lived   there was the pagan rite of Samain and we can say Halloween has been celebrate since the dawn of time. 
Now  are you ready to celebrate this night? Time to have a party!!
Secoli fa in una parte d' Italia vi era una popolazione conosciuta ovunque. Sto parlando dei Celti . Ci sono molte leggende su quella popolazione. Nel De Bello Gallico , scritto da Giulio Cesare è chiaramente specificato che l'Europa era occupata da due gruppi principali: i Celti (e le loro molte tribù ) e tedeschi . Ora, c'è una liason tra i Celti , l'Italia e Halloween . C'era il Samain per festeggiare il nuovo anno Celtico con falò e riti . Il giorno di questo evento ? 31 ottobre. I celti credevano anche che il Samain avrebbe potuto essere una buona occasione per entrare in contatto con gli spiriti e con il mondo dell'aldilà . In questo modo celebravano contemporaneamente i loro defunti e il capodanno. Questo era un  momento molto felice e un'occasione per festeggiare tutta la notte .