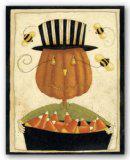 Ok Ladies and Gentlmen, time to get your thinking hats on and create a lovely entry for our Halloween Crafts Competition.
To enter please add a photo of your craft work which needs to be in the theme of Halloween. Any craft is welcome, as long as it is your own work.
There are 3 prizes and these will be awarded depending on the voting as of the 31st October 2011 and the winners will be announced on the 1st November 2011.
1st Prize: $30 Amazon Gift Card
2nd Prize: $20 Amazon Gift Card
3rd Prize: $10 Amazon Gift Card
Please tell all your craft loving friends about the competition, the more entrants and voters we have the better. Good luck!
To Enter The Competition or to Vote – Please Click Here!