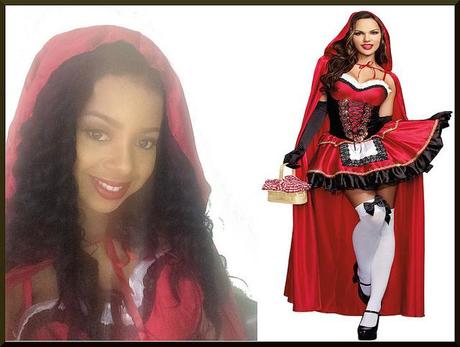 The classic storybook fairy tale of the big, bad wolf gets a sexy makeover this Halloween. This adult costume includes a red cape and red-velvet, sequenced bustier. It is covered with great details and patterns. I paired it with white knee high socks…and, of course, some Mary Janes.
This grown up and sexy version of little red has so much flair. It has a dark, mysterious feel to it. Yet, it's innocent and seductive. Do I sound like a Daniel Steel novel, yet?  LOL.
Enough talk about seduction….back to the review, Nicole.
OK.
I picked up this gorgeous 2-piece Lil Red Riding Hood costume last weekend. It was $39 plus shipping costs. It arrived in about 3 business days. I have the costume in size medium – i wear size 9/10.
I will say the costume is a bit on the short side for me – check out video review. But overall it is a great quality costume that looks like it costs more than $40. I also wished it came with the knee highs. Good thing I had an old pair from Halloweens-gone-by.  I'm such a hoarder at times.
So I ask….Who is afraid of the big bad wolf? In this gorgeous, velvety-red little red riding hood costume you will be taunting that mean wolf…Bring it on!

www.youtube.com/GirlRatesWorld
Be sure to checkout my Rag Doll Halloween Costume Review too!