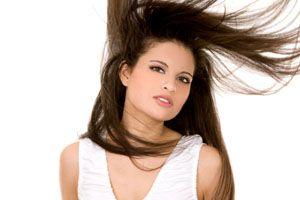 Having a black hair is considered to be a symbol of youth and beauty. There are several home remedies for black hair care which are simple to follow and effective when used.
Black hair is a symbol of youth and beauty. In case you're fond of thick black hair but don't desire to depend on any hair coloring products, then relying on natural remedies is the best solution. Take a stroll in your kitchen and yo might find many ingredients that may come handy to offer the same. Melanin is a pigment that is responsible for our hair color. This pigment decreases with age and the hair becomes gray and lastly turns white.
Lets discover the traditional home remedies to show your white hair to black hair and also know the tips regarding how to avoiding the white hair.
Coconut Oil
One of the most effective home remedies for hair care is by using coconut oil and curry leaves together. All you need to do is take some coconut oil and curry leaves together. Boil them and then allow it to cool. Strain the mix and then massage your scalp with this oil. This process is very effective in making your hair black. Try to add curry leaves in your diet.
Onion
Onion can also be very effective in treating black hair. All you need to do is take an onion making it into a paste after which apply this onion paste on your scalp on regular basis.
Margosa Seeds
Take some margosa seeds and grind them properly until a paste is created. Now apply this paste to your scalp. Or you can even try boiling margosa leaves in water and allow it to cool. Use this water to clean your hair. These natural remedies can be very helpful in getting black hair.
Basil Juice
Create a paste by mixing two teaspoon of basil juice, two teaspoon of henna, three teaspoon of coffee, three teaspoon of mint juice and something teaspoon of powdered fenugreek seeds. Apply this paste on your scalp and hair. Watch for three hours and then wash your hair. But don't forget to shampoo your hair after 24 hours of application.
Vitamin C
Consume food rich in vitamin C such as oranges, amla and strawberries. Take a healthy diet with fresh fruits and vegetables which can be very useful in keeping your hair black.
Wheat Grass Juice
Make it a daily practice of drinking wheat grass juice. This natural remedy is extremely effective in giving you glossy and black hair. Drinking carrot juice can also be equally effective.
Health Related Posts:
Home Remedies for Hair loss
Essential Oils That Are Good For Your Hair Loss Treatment
How to Eliminate Dandruff in the Hair Naturally
Home Remedies for Dandruff