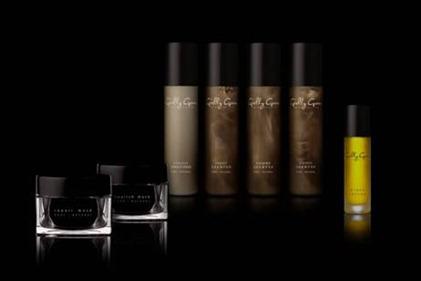 GiellyGreen's latest venture has been to create a hair care range in line with the same ideals practiced at the salon. The Boutique Collection is a range based on the world's finest natural substances, handpicked from around the globe for the unique care and qualities they deliver to the hair and scalp.
The key to the Boutique Collection is the unique combination of ingredients. Ancient minerals are combined with three of the world's most prolific oils; Argan, Neem and Sea Buckthorn, which have been used in their native corners of the globe for countless generations.
These ancient minerals are mined from a unique location, at the lowest point on earth, 1500m deep inside the sea bed by a hot spring. At this depth UV rays cannot penetrate and degrade them, meaning they are so pure that they have become super-charged. These minerals provide superior nutrition for hair as they are absorbed directly into the follicle, in addition their super-charge boosts the effectiveness of all the other ingredients.
Nothing is more beautiful than strong, healthy, shiny hair.
The products contain NO carcinogens, NO parabens, NO SLS, and NO synthetic fragrance. The raw materials are harvested, processed in a natural manner, and manufactured in the UK using a company who provides employment opportunities to the blind and mentally disabled.
GiellyGreen are proud that the Boutique Collection is a 95% natural product range.
The Boutique Collection – full range:
Volume Shampoo (£16) – will add strength, thickness and shine to your hair.
Repair Shampoo (£16) – is the ultimate solution for hair in need of nourishment.
Classic Shampoo (£16) – will gently support, condition and add shine to your hair.
Classic Conditioner (£16) – has a light formulation designed to fortify and smooth tangled hair every day. 
Nourish Mask (£29.50) – a mineral based formulation that will deliver nourishment without adding weight to the hair.
Repair Mask (£29.50) – a mud based formulation with ultra-active ingredients that will deliver ultimate nourishment by penetrating the cuticle, and restoring the hair's healthy condition.
Argan Rescue (£19.50) – a natural non-greasy remedy that revives weak, tired, dull hair whilst adding shine and smoothing frizz.
Key Ingredients – facts
Argan Oil – is obtained from the fruit of the ancient Argania Spinosa tree, native to Morocco. Argan oil is non-greasy and non-oily, rich in natural antioxidants and vitamin E. It naturally hydrates and locks in moisture to prevent frizziness, flyaway and hard to control hair leaving a natural shine. 
Neem Oil – is an ancient Indian remedy used to treat the scalp and restore its natural moisture balance. It is one of Mother Nature's best cures for dry, brittle hair and dandruff. Hair is instantly more silky, shiny and strong.
Sea Buckthorn Oil – is produced from the golden-orange berries and nutrient rich seeds of the Sea Buckthorn shrub found in Russia. Consisting of many vitamins and essential fatty acids the oil is a powerful anti-oxidant. It nourishes and protects skin and hair from damaging sun-rays and promotes tissue regeneration.
Ancient Minerals and Mud – have been sourced from the Dead Sea which has been renowned for centuries due to the therapeutic properties its salty waters bring. Minerals treat the scalp and hair, injecting moisture, increasing blood circulation and supporting hair growth. Hair is left healthy and shiny.
GiellyGreen – the salon background
Fred Gielly and Shai Greenberg, two talented men who came from countries worlds apart with different outlooks and lifestyles, met in the course of their work and discovered that they both had a common ideal that was stronger than all their differences combined. Fred and Shai established GiellyGreen where they share their love of creativity and style while still honouring local traditions and styles.
GiellyGreen was established to share the ideals of unity, professionalism and service. The salon houses a collection of hair designers, assistants and beauty experts from all over the world, committed to providing a service of the very highest standards to each and every single customer. They use comfortable state of the art equipment, and adapt each treatment or service to the individual customer's desires and requirements, making every appointment a unique, personal experience.
It is the combination of these elements, handpicked and brought together to work in harmony which make the salon such a success - a principle which Shai and Fred have applied to their products.