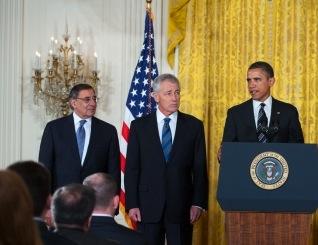 It's official now -- President Obama has nominated Chuck Hagel to be the new Secretary of Defense. In nominating Hagel the president said:
"Chuck Hagel's leadership of our military would be historic. He'd be the first person of enlisted rank to serve as Secretary of Defense, one of the few secretaries who have been wounded in war, and the first Vietnam veteran to lead the department. As I saw during our visits together to Afghanistan and Iraq, in Chuck Hagel our troops see a decorated combat veteran of character and strength. They see one of their own."
I agree. And I would like to add another qualification Mr. Hagel has. In spite of being a Republican, Chuck Hagel was one of the first politicians to see what terrible mistakes the invasions of Iraq and Afghanistan were. And I believe he would be a strong voice for getting us out of the mess in Afghanistan -- and for keeping us out of unnecessary future wars. He would act in the best interests of both this country and our courageous troops.
I know that some of my progressive brothers and sisters are upset with a homosexual slur Hagel made 14 years ago -- and I also believe his remark was wrong and disgusting. But people do change. And in the last 14 years millions of Americans have changed their attitude about the LGBT community. Hagel has issued what sounds like a real apology (as opposed to the usual GOP non-apology apology), and he has said he supports the president's views on gays/lesbians in the military. I'm willing to give him the benefit of the doubt, and the chance to prove himself.
It is time for an enlisted soldier (and a decorated one at that) to take the reins at the Department of Defense. He has seen war from the foxhole point of view, and knows the real horror of it. War must always be a last resort (used only in defense and after all other efforts have failed). The president made a good choice in picking Hagel. I think he should be confirmed.