The National Rifle Association (NRA) released a video calling President Obama an "elitist" for not wanting armed guards in schools when his daughters receive armed Secret Service protection every day. Yes, they went there, here's the ad, it appears withing the first minute of the video.
The NRA should have a voice in this gun debate, however they just went to a low level with this ad.  This is a ridiculous ad in so many ways.  When you become president of the United States, your family is subjected to a ton of death threats per day, unfortunately there are sick people with guns that threaten the President's family.  That's the reality.  Such as a city council candidate once did, via NY Daily,
The failed city council candidate who urged the assassination of President Obama and his "monkey children" got a visit from the Secret Service at his southern California trailer, he claimed.

Jules Manson, 48, described the alleged encounter in a Facebook post late Monday night after news of his racist rant grabbed headlines.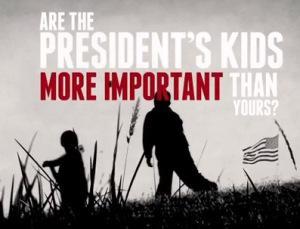 Why are they criticizing the need to keep Sasha and Malia safe?  It's not their fault, their father became President.  This ad is unreal and shows how much the NRA is out of step with the mainstream.  No one should want to live in a society where we want 11 armed guards at every school.  I feel bad for people that need security around them all the time, what a sheltered life.
Honestly, the NRA shouldn't even be at the table when it comes to deciding policy until they decide to take an adult and reasonable approach. The White House released a statement today about the ad, via ABC News,
White House spokesman Jay Carney said in a statement that the ad was "repugnant and cowardly."

"Most Americans agree that a president's children should not be used as pawns in a political fight," said Carney. "But to go so far as to make the safety of the President's children the subject of an attack ad is repugnant and cowardly."
Unfortunately, this ad will probably cause republican lawmakers without a spine to do nothing on this gun issue…which was likely the NRA's goal with releasing this idiotic ad.  Lets not let the NRA gun nuts win this time, please…