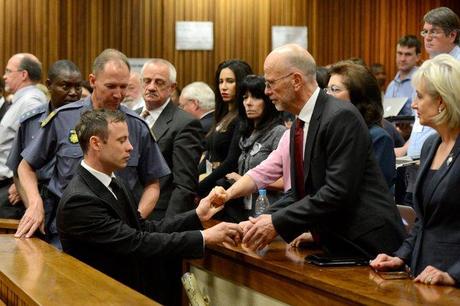 Oscar Pistorius held the hands of family members after being sentenced to five years in prison on Tuesday.
Credit

Pool photo by Herman Verwey
The New York Times
With a judge seeking to strike a balance between mercy and retribution, Oscar Pistorius, the South African track star, was sentenced Tuesday to five years in prison for killing his girlfriend, Reeva Steenkamp. 
The athlete's defense team said the law under which he was punished calls for him to serve only one-sixth of the prison term — 10 months — before he can be placed on house arrest. He was also given a suspended three-year term on separate firearms charges.