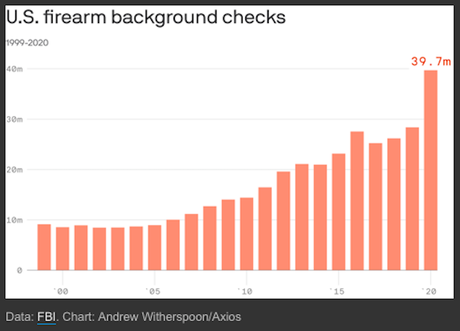 The epidemic of
gun violence
has not gone away. In 2019, there were 39,524 gun deaths in the United States. That was a record. But the record didn't stand long, because it was smashed in 2020. There were 43,460 gun deaths in 2020. 
The U.S. also set a new record in mass shootings -- going from 417 in 2019 to 612 in 2020.
Sadly, there doesn't seem to be much hope for reversing these trends. There were 39.7 million background checks done for gun sales in 2020 -- about 40% more than were done in 2019 (which was also a record year). More guns in our society is not going to mean less deaths -- no matter how many lies the gun lobby tell to try and convince us otherwise.
It's time for Congress to act. I doubt they will though. The gun lobby has too much money to put in campaign coffers (mainly Republican).