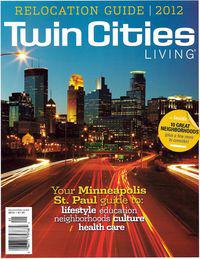 Whether you are moving across the country or from one corner of the metro to another, Twin Cities Living is a great way to get the know the Twin Cities...your Minneapolis - St. Paul guide to lifestyle, education, neighborhoods, culture and health care. You will find valuable information to help you better understand this diverse area, including neighborhood profiles and school charts.
With a thriving arts scene, four big-league sports franchises, expansive parks and lakes, major museums and the largest shopping center in the country the Twin Cities has much to offer... but it is the people who live here that make it a great place to call home. We have been named the healthiest, smartest and most livable state in America... in fact, how Minnesota ranks tells a lot about us.
When we moved to the Twin Cities over 20 years ago we were already familiar with the area, but it still took some time to decide just where we wanted to live within this metropolitan area that spans more than 60 miles across and offers a such a variety of living experiences, from urban lofts to pastoral lakeshore. I find local homebuyers often also go through the same process when it comes time to invest in the first home of their own or move to a new location within the metro area. I also regularly get contacted by local residents wanting to have an overview of schools... with dizzying choices of open enrollment options this guide can be a good place to start.
Click here to request your free copy of Twin Cities Living ... or email me at [email protected] ... learn more about what makes this such a great place to call home!
Sharlene Hensrud, RE/MAX Results - Email - HomesMSP.com