I receive many requests to host guest posts on my blog, I have noticed recently that many of the guest posts are not coming from other bloggers or even authors for that matter but from PR companies acting on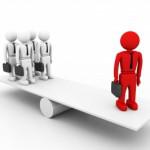 behlaf of their client.
While the content is in relation to parenting lets say the links or author Bio clearly links back to most noticeable a well known brand name or business.
A guest post on baby and sleep arrives, well written and informative, great for the blog but the Bio is indeed advertising an Insurance company who deals with accident claims, no relation to parenting at all? The link they wish to use is one that goes straight to their own Insurance website.
I like to believe by offering guest post opportunities I am helping other bloggers and authors broaden their online presence but are the PR and companies being fair?
Is providing a blog post in return for a advertising link acceptable and am I shot changing my blog and readers?
I want to provide information that my I feel my readers will benefit from, but am I shoving business links under their noses? Do I even recommend the business in the link? By placing the business link in the Bio am I saying to my readers Yes I think they are great so click this link.
Please note I have exchanged no money or goods or service on any guest posts, maybe I should if they wish their business to be displayed?
Is it only fair that in return for an informative post that they are allowed their company to be advertised, is that the deal with guest posts these days?
Would an author Bio advertising link be classed as a paid link? Does Google believe it must be a paid link and should it be strictly a no-follow link, indeed should these links be paid for? Am I jepodising my own blog for the sake of a link?
I would love to hear your own views on this…