When you have children, staying ahead of the fashion game becomes tricky to say the least. You become more interested in what they're wearing than your own wardrobe. After all, they keep growing so they need new clothes. And, chances are few and far between to sit down and enjoy half an hour with a copy of Vogue, Elle or Glamour. So, this year, I'm going to be searching out pieces which are bang on trend not only for spring and summer, but right up until winter 2014. Here are just a few of my favourites so far.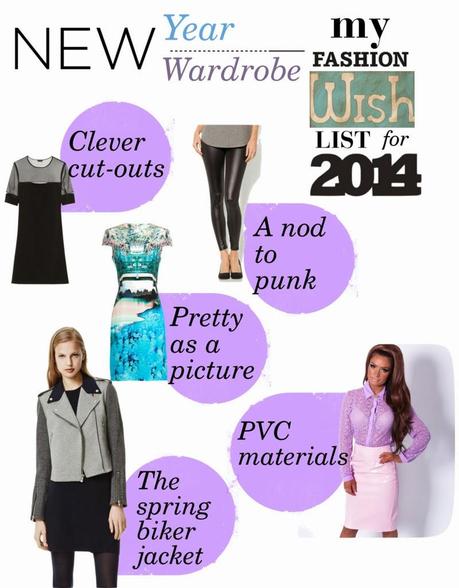 Clever cut-outsThe girls on the likes of Geordie Shore or TOWIE probably like their cut outs a bit too much – generally having more cut out than material in their dresses. But, cut outs are set to stick around for the whole of 2014, and they can be a much more subtle affair. I love gown from Joseph. It's pricey but, as long as I can still fit into it, I can see myself wearing it for years. It has cut outs on the neckline and on the arms, but it provides some vital coverage for the top of your arms with its chiffon detailing.
A nod to punkPunk fashion is one of those ever-revolving fashion trends which come back into style again and again. And, punk's next moment in the sun – or rather the shade because it will probably be cold and dark at that time of year – is set to be in autumn/winter 2014. According to the forecasting agency Trendstop, punk fashion will be given a more sophisticated look at the end of the year. One of the easiest ways of adding a hint of the subversive is with a pair of leather-look leggings. The lacquered leggings from Prix Mini at La Redoute are a great price at £19 and I can wear them with a plaid shirt – another trend set to stay for winter. Or, for spring, I can pretty them up with a lace tee and a pair of ballet pumps.
Pretty as a pictureWhile OTT prints have been seen on catwalks and in high streets for seasons now, this year, they are set to become something more – with large pictures that can only be described as artwork adorning tops and dresses, rather than the repeating patterns of yesteryear. This garden-print dress from Greek designer Mary Katrantzou is truly a thing of beauty – and surely the only thing to wear if you are lucky enough to get invited to a garden party this summer.PVC materialsWhile leather is here to stay, the material of the moment for 2014 is set to be PVC. And, that doesn't mean you have to look less than salubrious. Burberry Prorsum has been showcasing some delectable spring rain coats in semi-opaque PVC while Simone Rocha has kept the look elegant with below-the-knee pencil skirts. Pink Boutique's PVC pencil skirt is just the right length and comes in this spring's pastel shades of pink or baby blue. I'm going to tone it down with a roll-neck jumper and a pair of ankle boots.
The spring biker jacketWhile a black biker jacket goes with pretty much everything – over jeans and a jumper for the weekend or to toughen up a girly floral dress – it's a trend which has had an overhaul for spring and summer in paler, more feminine shades. Adashi K's cotton and wool blend biker manages to combine a softer look for spring with darker arms and a black collar, which will take it through to winter – the perfect transitional piece.They're just five of the pieces on my wishlist, which should work for all of 2014.
Hi! I'm Katie and Hayley has very kindly let write this post for you. Thanks for having me!
Thank you for reading and If you enjoyed this post, please consider following me via Bloglovin