Angela of the blog Garden and Sea & I have lots in common: we're both Creative Writing majors, bloggers, DIYers (though she is much more dedicated than I), and lovers of style, thrifting, coffee, and short stories. We also happen to live together. You may have been me rocking some of the pieces from her etsy shop several times, because I just can't take her scarves off. Go look at her blog to see her gorgeous designs! Thanks for posting, Ang! xoxo Charity
Hi, c'est la belle vie readers! I'm Angela and my blog Garden and Sea is all about arts+crafts, my crochet shop, fashion and design trends, and anything else that inspires me to be creative. I also happen to be Charity's roommate! When we first met, we were delighted to discover that we were both getting more serious about blogging :)
 While Charity's gone having an amazing time on her mission trip, I'm here to post about my favorite hobby: thrift shopping!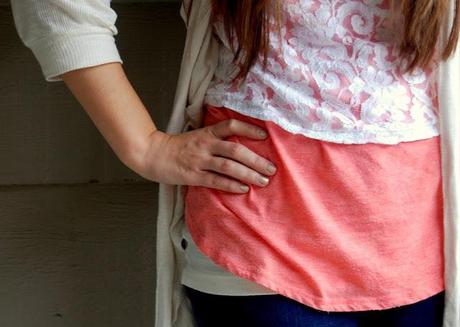 I honestly believe everyone who doesn't buy second hand could use a liiiittttle lesson in thrifting. So, if you know anyone who doesn't go out and hunt down at least some of their own clothes, you may want to teach them just a few things:
1. Don't buy retail what you can get at a thrift store. 
Lace is one of the biggest spring trends right now. I'm sort of obsessed.  But since it's a delicate material, buying it at the mall can get expensive. However, if you walk into a Goodwill- you're almost sure to find some cute lace top such as the one I'm wearing here! Because just like clothing, trends are often recycled. This one was $5.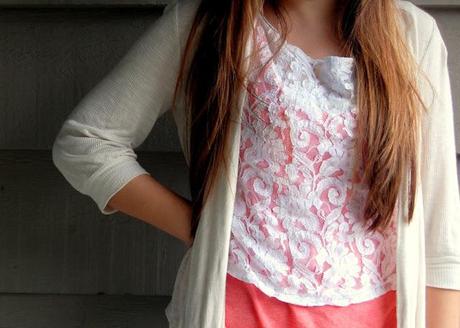 2. If you can, try it on! 
Charity was just telling me about her friend that wanted to buy all new clothes. Her advice: try things on, even if it's not your style. He came back with new cardigans and nice jeans that he loves. It can't hurt :)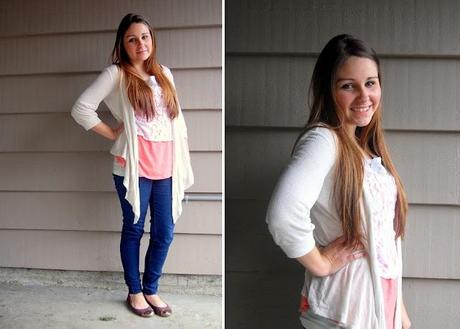 Going along with that, is rule no. 3, be specific in what you want, but don't limit yourself.  Because I used to run a little Etsy shop for vintage (and because I should have been born in a different era), I always think "I want vintage!" when I thrift shop. But being practical is good too. The sweater I'm wearing is so similar to one I bought at Nordstrom, and when I found out it was $4 I had to have it too.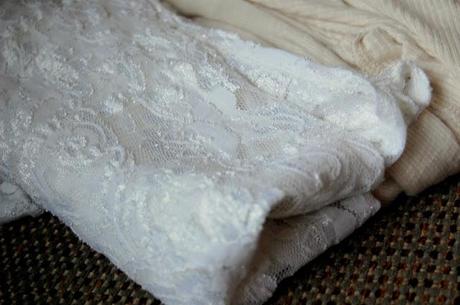 Those are some of the basics, for me anyway.
Are you inspired? I think it's time to grab some Starbucks like the iced caramel macchiato shown below (and my boyfriend's kitty's legs...) and get thrifty!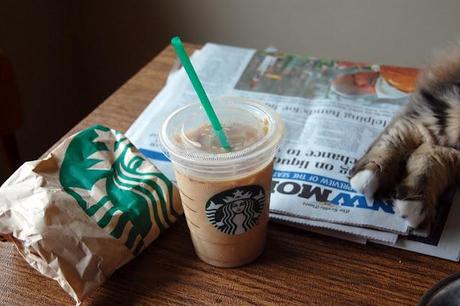 sweater: thrifted, $4, lace top: thrifted, $5, orange tank: forever 21, aeropostale jeans: thrifted $8, flats, old navy