The perfect Valentine's Day is definitely not just dinner. That's for amateurs. The whole day should be a celebration of love! To really make an impact, it needs to be a day of ultimate romance that she'll never forget. What better way to prove your love? Need some ideas? Here are five can't-miss suggestions to help you design your own perfect Valentine's Day for your lady.
1. Set the Tone With a Romantic Breakfast
Breakfast in bed for your lady is a must on Valentine's Day. If you live together, get up before her and cook her favorite morning meal, put it on a tray with a little vase with a few grocery store flowers, and the morning newspaper and bring it to her in bed. If you don't live together, arrange to go over to her place to cook. If you have a key to her apartment, use that and you can still surprise her. If not, arrange with her in advance for you to come over that morning, but don't tell her why. In every case, make sure you include the first of many Valentine's Day cards on that breakfast tray. It's literally a taste of what is to come.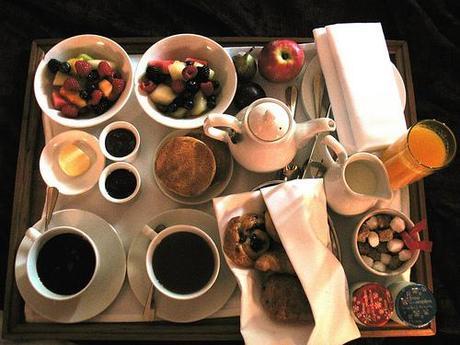 Photo by Vidya Crawley via Flickr
2. Send Flowers
Unless Valentine's Day is on a weekend, you'll both probably have to go to work. Surprise her by sending flowers to her while she's on the job. FTD's Valentines Day flowers are a convenient resource you can use, since their selection is huge (2). Include another card with the flowers and make sure the words express your deep love and suggests what the rest of the day holds for her. That will keep her thinking about you until the work day is through.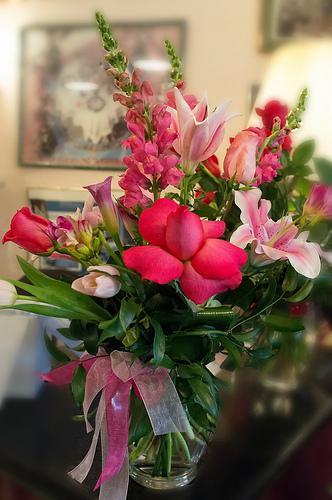 Photo by ralph and jenny via Flickr
3. Plan a Playlist
The rest of the day is going to require the most romantic playlist ever. You'll be using it during all the other activities you've got planned. The Pandora mobile app is perfect for creating the ideal playlist of her favorite romantic songs and taking it with you wherever you go to keep her in the mood for love.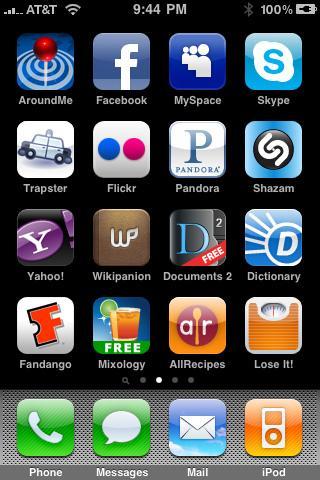 Photo by ninacoco via Flickr
4. Get in Some Relaxation Before Dinner
Don't just jump into dinner yet. Have a box of gourmet chocolates waiting for her when she gets home to give her a little treat to curb her appetite. Once she's changed into something more comfortable, give her another card, this time with a couple's massage gift certificate in it. Have the massage already scheduled for right after work. She'll love the relaxation of the massage and the intimacy of having it while you get one right beside her. Use your playlist in the background.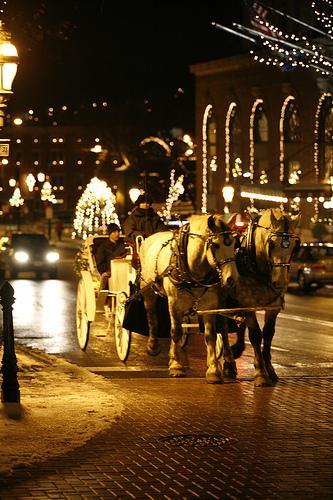 Photo by Lehigh Valley, PA via Flickr
After the massage, take a romantic stroll or carriage ride in the nearest scenic park. This will perk you both up for dinner. If you don't know of any romantic parks nearby, you can use the Oh, Ranger! Park Finder app to locate one. Speak soft words of love to her as you walk and keep that playlist playing.
5. Dinner and More
It's finally time for the big Valentine's dinner. If you're an excellent cook, you can do this very romantically at home. Otherwise, have reservations in advance at her favorite restaurant. Go all out on gourmet foods and champagne. During dessert, giver her her main present for the day. This should be tailored to her own preferences, but jewelry like diamond earrings or a gemstone pendant from Jared or another jeweler is traditional.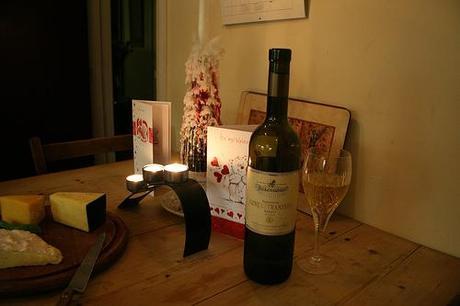 Photo by ndrwfgg via Flickr
After the dinner celebrations, the evening doesn't have to be over. It just becomes less public. Choose the ending to your Valentine's Day celebrations in the way that suits you best. The Kamasutra app may give you some ideas on the perfect finish to a perfect day.
Deb Russel
Deb has a culinary degree and loves to host gourmet dinners for her closest friends.