17
JAN
I have the pleasure of introducing everyone to Holly, she is a lovely young lady that Mat and I had the pleasure of meeting when she lived in Montreal and has since moved to the US.  Here is Holly in her own words, "I am just your typical gal who loves to eat, watches star wars all day and also loves to travels for food. I came from Montreal to Miami to Georgia, back to Montreal and now finally back and settled in Atlanta, Georgia. I have been a Herbivore for 5 years now and I wouldn't have it any other ways! I started Traveling Pink Lips 2 years ago when I moved back to Montreal. I thought to myself "Why not search for some Vegan restaurants in Montreal and blog about it?". As you can see, I had all the time in the world, of course between school and work. Two years in the making and my blog is standing stronger than when it first started. I took it upon myself to educate those behind these clicks on what Veganism is about, to happily share some recipes, interact with other Vegans in the business and also share my restaurant reviews! Thank you in advance for stopping by and stay tuned for I have a lot of great plans for the year 2013. And also a special thanks to Lidia and Mathieu for putting together VBU! What a great spark in the Vegan community!" Thanks for the shout out Holly! Follow Traveling Pink Lips on the Blog and Twitter.
Ah, something magnificent happened, I made my very first Vegan Quiche- Mini bites for starter! My mum and I were in the kitchen speaking about a few dishes she felt like cooking for dinner. One of her specialties is a Quiche Lorraine- A famous French dish which consist of eggs, cheese, veggies, bacon and more cheese. Neat, eh? Talk about cholesterol, lol. Anyways, to each its own 

Yesterday, I decided to do a little research on how to 
Veganize
 this French dish of ours.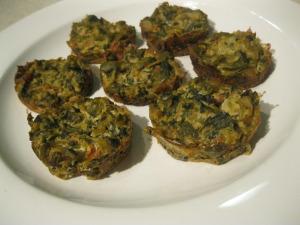 Mini Crustless Vegan Quiche.
While the searching was a little intense, I came across a recipe via FatFree Vegan Kitchen and used it as a guide; I did not use her recipe or method. I used my bestjudgment and intuition for the process. In a traditional Quiche, the eggs are what hold the pie together. I decided to go with Tofu mixed in with milk [Almond] to give it the smooth texture it originally owns. I used Kale, Green Peppers, Onions, and Roma Tomato as my vegetables of choice. As far as spices goes, I went with Garlic Powder, Onion Powder, Seasoned Salt, Season's Herbs Blend, Paprika, and Black Pepper.
Here what you'll need!
Mini Vegan Crustless Quiche:
[Prep time: 30 minutes]
[Cooking Time: 25 minutes]
[Makes 24]
1 block of Tofu- I used Extra Firm Organic Tofu.

240ml Of Milk- I used Unsweetened Almond Milk

2 hands of Kale

1 Onion

1 Roma Tomato

1 Green Pepper

Black Pepper

Onion Powder

Garlic Powder

Seasoned Salt

Season's Herbs Blend

Paprika

1 teaspoon of Cornstarch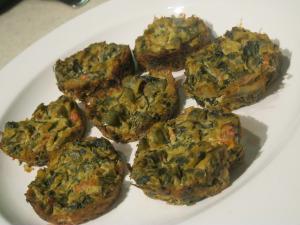 Mini Crusless Vegan Quiche.
First, rinse and 

finely

 chopped your vegetables. Cook for about 

8 minutes

or so. I never really pay attention to timing; let's just say until it's cooked. Once this is cooked and seasoned to your liking, set aside and forget about it! Start to 

pre-heat

 your oven to 

350c

 and lightly spray your cupcake pan and set aside.
Secondly, this part was a little tricky for me. I used 

Extra Firm Organic Tofu

 in this case, so my blending process was a little bit of a pain. If you have a 

food processor

 it will be best to use that. Boy, I can't wait to get my

Vitamix

! Alright- in your blender combines the 

Almond milk & Tofu

. If you look at FatFree Vegan Kitchen's recipe you will see that she only uses 

1/4

 of milk. Since my Tofu was a little bit firmer, as she used 

Silken Firm

 it was a little trickier to blend. I kid you not; I was almost ready to give up at this point. My blender did not want to cooperate, 

grr

! So after that's done, your tofu should come to an almost 

puree form

, which is the consistency you want. Not too 

liquid

. If you have an awesome blender already, start with

1/4

 of milk of your choice and work your way through it!
Thirdly, while you are mixing in your tofu and milk, start 

adding

 your spices! Adjust to your taste and like. Don't forget that your cooked vegetables filling are 

already

 seasoned. You don't want it to become too

salty

 once it is mixed.
Fourthly, once your tofu has reached the desired texture bring in your vegetables and 

mix

 it together into a mixing bowl. You should be reaching a nice 

creamy blend

. Yummy, you're 

almost

 there! While you are mixing, do taste to see what it's missing. The spices I have listed are my favourite. I found the blend to be perfect for the Quiche. While you are mixing add 

1

teaspoon

 of cornstarch. This is only to give it a 

consistency

 while it's baking. Remember, we're 

not

 using eggs!
Fifthly, have a quick taste! I think this part always ends up being my favourite 

 although; I do start a little earlier, hehe. Now that everything is mixed to perfection 

grab

 your cupcake holder and 

start

 your filling process. For this recipe, I was able to fill all 

24 cupcake holes

 at about halfway each. Bake for 

25

 minutes and let it cool for about 

5

 minutes or so. Slowly scoop your mini quiches out of the pan. And you're 

done

!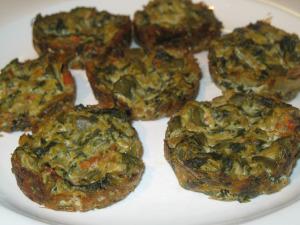 Freshly Out Of the Oven!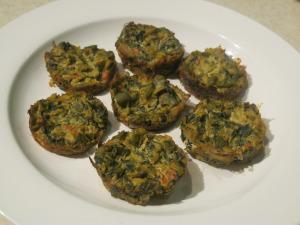 Mini Vegan Crustless Quiche! Yummy!
Verdict: WOW! It was a blissful success! I left it to my mum to have the first bite and she was highly impressed. She helped herself with 3 of these bad boys. Now, my mum is the best at making a Quiche Lorraine, so for her words to be-"Wow, this taste exactly like a Quiche", made me very happy! I hugged her very hard after this <3 my mum is my best critique!
This dish makes for a perfect appetizer or even lunch bites. Now while the original recipe calls for bacon and cheese, you can easily substitute those with Tempeh and Daiya Cheddar! Perhaps, I'll do another one soon, they were crazy delicious. For the next time I will probably go for a full pie size and add Tempehand Daiya Cheddar. Stay tuned!
Enjoy 

-TravelingPinkLips
_____________________________________________
http://travelingpinklips.com/