Bread is such a comfort food and during the colder months it's such a lovely food to have. Please welcome back Laura, author of the The Veggy side of me. See her previous contribution recipe Aperizcubes Salty Rice Cubes.  As an Italian living in Paris for 11 years she has a very interesting perspective. Follow The Veggy Side of me on Facebook and of course the blog. Welcome back Laura!
Still hot, straight from the oven…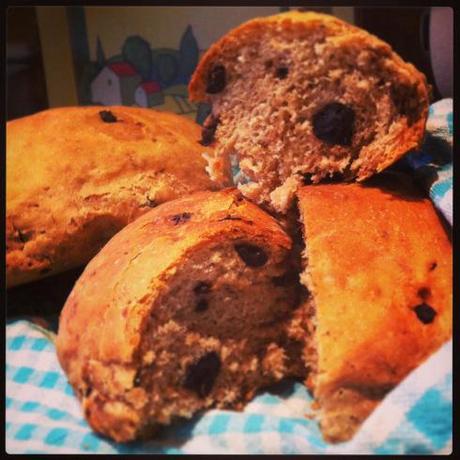 I love fresh baked bread, and olives and rosemary make it taste really good. When you bake bread, do take your time, the more you let it rise the better it will be.
Ingredients
Dough:
500 g organic flour,
1 tsp Salt,
25 gr fresh Yeast
300 ml Warm water
Chopped black Olives, (25/30, it depends on your taste)
Fresh rosemary, just a spring or two
Crumble fresh yeast in a glass of warm water and let it melt. Put the flour, salt, yeast and the rest of the water together in a mixing bowl. Mix well.
Tear olives with your fingers (you can chop them up, if you'd prefer to) and add to the dough and mix well.
Lightly sieve the worktop with flour, and knead the dough on the table. Put back into the bowl, cover with a towel and leave in a warm place for 45-60 mins. Knead the dough again and let it rise for 1 more h.
Shape your dough into 2 round loaves, place them on an oiled baking sheet and slash their top with a knife (I make stars…).
Preheat oven at 200°C.
Let them rise for 20/30 more minutes; bake your olive breads for 25/30 minutes or until brown and crispy!
Enjoy
PS: you can add some dried tomatoes to make it even nicer, or some garlic…