Happy Easter! Hope everyone is enjoying their holidays. Please welcome back Gabby from Veggie Nook! Please do visit Gabby on her blog, Facebook, Twitter and many other social links. Welcome back Gabby!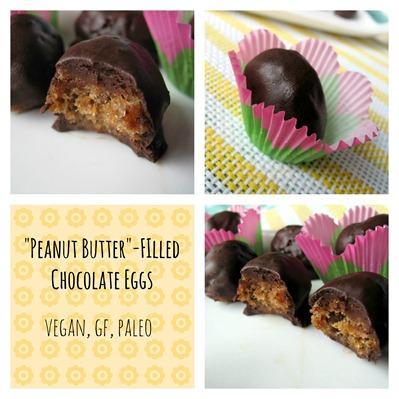 Even though I'm not spending Easter with family this year, that does not mean I won't be eating chocolate.
But not just any chocolate. I'm talking "peanut-butter" and caramel-filled chocolate eggs that would rival any silly Cadbury/Reese/Nestle/Hershey confection.
Guys I am really proud of these.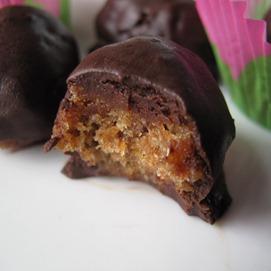 I decided to go with almonds instead of peanuts in the filling because they are more nutritious (and paleo!) but when combined with the other ingredients, this almond filling really takes on a peanut taste. The medjool dates add a caramelly flavor and the coconut flour gives the filling a nougaty-texture. Best part? This also uses almond pulp leftover from making almond milk! Waste not, want not! If you don't have almond pulp though don't worry, almond meal or any ground nut should do the trick.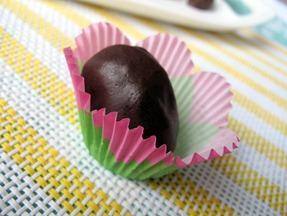 And let's not forget the coating. I decided to make my own chocolate shell from my usual cacao powder and coconut oil. I used slightly different ratios than I usually do, but the results are still delicious.
The result? A slightly misshapen (I'm lazy and no culinary genius) but entirely vegan, gluten-free, refined sugar-free, grain-free, raw, paleo, and maybe even other diet-friendly treats that will delight adults and children alike!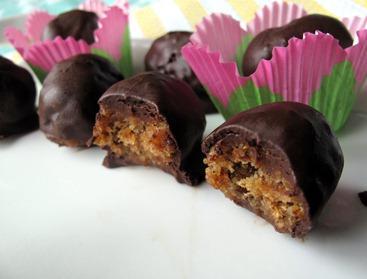 Sometimes I think it's funny I didn't like nut butters when I was little…clearly I have a love affair with it now

"Peanut Butter" & Caramel-Filled Chocolate Eggs (Vegan, Gluten-free, Sugar-free, Paleo, Raw)
6044607
Ingredients
Filling
6 medjool dates, pitted
3 tbsp almond butter
3 tbsp coconut flour
1 tbsp maple syrup
1 tsp vanilla
1/8-1/4 tsp salt
1/4 cup + 2 tbsp almond pulp (dry) or almond meal
Chocolate Coating
1/4 cup coconut oil
1/2 cup cacao powder
2 tbsp coconut syrup/maple syrup
Instructions
Add all filling ingredients to the bowl of a food processor and process until smooth. Then add the almond meal and process again until a smooth consistency is reached. Put the filling in the fridge to firm up a little while you make the chocolate.
In a small bowl over low heat, melt the coconut oil. Whisk in the the cacao once melted and add in the coconut syrup. Remove from the heat.
Take the filling out of the fridge and shape into egg-shaped balls. Using 2 forks, dip each "egg" into the chocolate, ensuring all sides are coated. Place onto a parchment paper-lined sheet and continue until all eggs are coated.
Put the eggs in the fridge for about 40 minutes to get firm. Store in the fridge until ready to eat!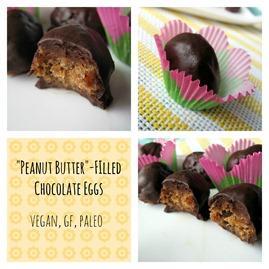 Whether you celebrate Easter, Passover or nothing at all, I hope you all have/had a wonderful holiday!