After her wildly successful first post on VBU!, Rachel in Veganland – Not Skinny how could I not have her back? This time Rachel is back to share her take on tahini chickpeas. You can follow Rachel's posts through email, and find her on Twitter, Facebook, Instagram, and Pinterest. Welcome back Rachel!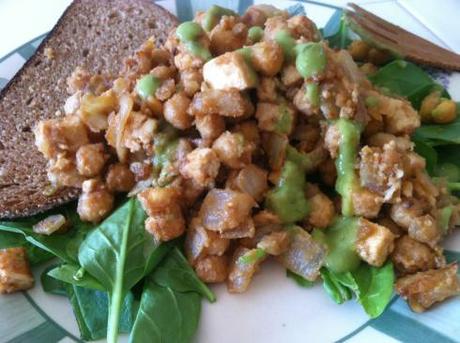 Living in this house in Carrboro has been a throw back to my first few days at college when I was cooking vegan for the first time in the communal kitchen of my dorm. There were 2 things I always had in my food box in those days: garbanzo beans and tofu. As the garbanzo is my favorite legume, I would eat them quite often, and in a variety of ways.
I would often sauté them up with some fresh onions and garlic, add in a few seasonings to suit my mood, then a sauce to tie it all together. This past week I've revisited that dish, as again garbanzos and tofu were readily available. This time, instead of the goddess dressing I would often use to tie all of the ingredients together, I used some tahini.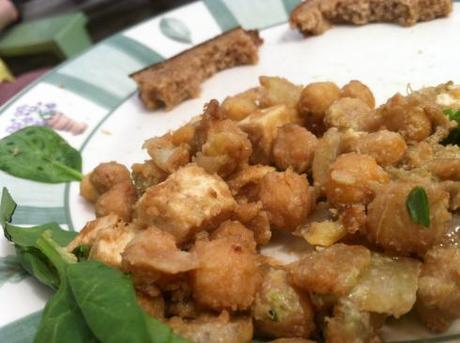 The result was caramelized fried-like glory with no breading, mess, or actual frying. What a fantastic and flavorful shortcut! The flavor was similar to fried chicken-like tofu but the garbanzos added a rich nuttiness to the dish that was only amplified by the tahini. Served atop a bed of fresh spinach, and it was heaven on a plate.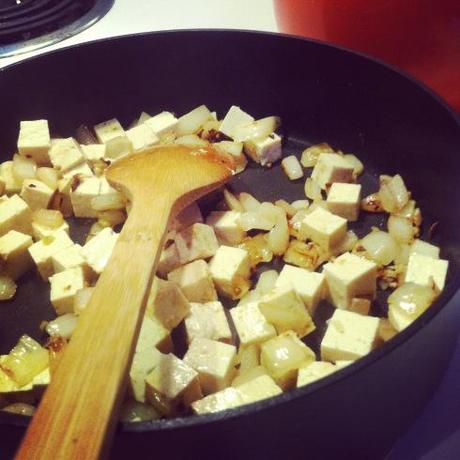 Tahini Fried Chickpeas and Tofu
1 can garbanzo beans, drained and rinsed thoroughly
1/2 block extra firm tofu
1 Tablespoon olive oil
2 Tablespoons soy sauce or tamari
1 clove garlic, minced
1/2 cup chopped onions
dash dried basil
1/2 cup tahini
Over medium heat, sauté garlic and onions until the onions begin to brown and get all caramelized. Then pop in your tofu, cut into nice sized chunks and allow it to brown slightly too. Add those chick peas and let it all mesh together for a couple of minutes, then add in your tamari. At the very end, add the tahini and remove from heat, stirring to incorporate thoroughly. Serve immediately over a bed of fresh, raw greens and eat your heart out.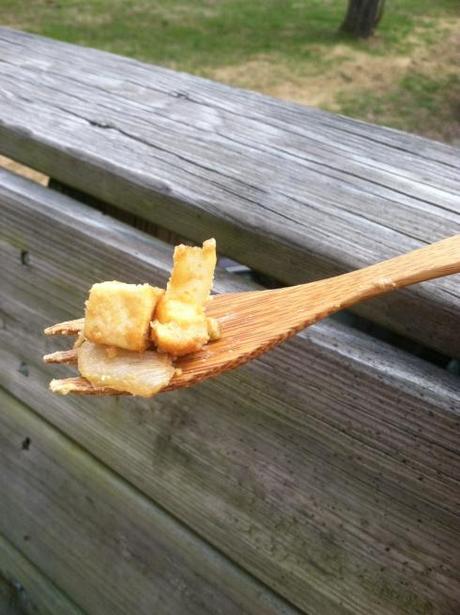 Now that we're back in Carrboro, we've of course been frequenting our favorite taco truck again, huzzah! This means the world's most decadent and fantastic sauces. I always get an extra 2 oz. container to keep and smother on EVERYTHING I can. These chick peas were no exception.