When can a very young child testify in court?
A tragic triple murder on the Crow Reservation in southeast Montana raises a question far too common in both civil and criminal law: When can a very young child testify?
Sheldon Chase, 22, is charged with the murder of his grandmother, cousin, and cousin's boyfriend. The cousin and her boyfriend were the parents of two boys, ages 2 and 3. According to an account in the Billings Gazette, the older boy told FBI investigators that Chase and his father fought outside the grandmother's home, and Chase shot his father, then shot the two women inside the home. http://billingsgazette.com/news/state-and-regional/montana/article_cfdce8fe-51e0-5ecf-8cf2-f0be64d6a4c8.html
Young children may testify at trial, if they are first found competent to testify. In Idaho, Joseph Duncan was set to stand trial for murdering a woman, her boyfriend, and her teenage son, and kidnaping her two younger children for sex; he later killed the younger boy but was captured in Montana with the girl. Idaho law requires a judge to interview privately any child under ten to determine competency. Days before trial, the judge found the girl, then nine, competent to testify.
Some states establish competency review requirements by statute, while others rely on case law. Most states require that witnesses under ten be interviewed to determine their competency, either before trial or during trial but outside the presence of the jury. Older children's competency may also be challenged, if the lawyer opposing the testimony files a motion asking the court to determine competency. In the Duncan case, the nine year old was the only living witness to a triple homicide; the judge determined her competency before trial because of the potential effect on plea discussions and trial if she were unable to testify.
Competency determinations depend on whether the minor witness has the ability to:
1) understand the obligation to tell the truth, and
2) accurately relate events seen, heard, or experienced.
The same rules apply to adult witnesses whose mental capacity is in question. The criteria are broken down further into these elements:
• Capacity to observe.
• Sufficient intelligence.
• Adequate memory.
• Ability to communicate.
• Awareness of the difference between truth and falsehood.
• Appreciation of the obligation to tell the truth in court. Judges are trained to use age-appropriate terms and measures. A young child may say that if she lies she'll be punished, or if he doesn't tell the truth, God won't love him any more. In most cases, that's enough.
In Washington State, a three year old was allowed to testify about abuse that occurred when she was two, because she met the basic criteria for competence as to the subject of her testimony. Obviously, she could not be asked more complex questions that a seven or ten year old could understand and respond to, but she demonstrated her understanding of the difference between the truth and a lie, and the importance of telling the truth. The judge concluded that she had the necessary ability to observe and communicate what had happened to her. However, it's entirely possible that another three year old or even an older child might not be found competent.
When a child is unable to testify, their prior statements to parents, counselors, doctors, or law enforcement may be admissible at trial in some situations. Many state legislatures passed laws in recent decades allowing such statements, particularly in sex abuse cases, because of the need for the testimony and the difficulty of obtaining it, if the circumstances indicate that it is likely to be reliable.
As a direct result of the Idaho court's competency decision in Duncan's case, Duncan pled guilty on the day jury selection was to begin to three charges of first degree homicide and three charges of first degree kidnaping. He was sentenced to life in prison without parole. He also pled guilty to federal charges of kidnaping and homicide for taking the two younger children to Montana, saying he wanted to spare the family and community any more pain. It's unlikely that he would have pled guilty without the finding that the nine year old could testify.
What about this little boy? His competence will be evaluated by the criteria set out above. If he understands what it means to tell the truth, and demonstrates the ability to accurately relate other events, he too may be found competent to testify to what he heard and saw. The more consistent his testimony is with other evidence, the more weight it will carry. We don't know yet what else he told investigators, what other testimony there may be, or what the physical evidence shows. No prosecutor wants to put a child on the stand if it can be avoided. Children can be unpredictable witnesses. The experience may add more trauma to an already-traumatized life.
This boy's testimony may turn out not to be necessary. Chase may confess. News accounts say he suffers from mental illness; he may not be competent to stand trial. The physical evidence at the scene may be enough to convict him.
But children's testimony can be powerful. Its availability is one more important tool.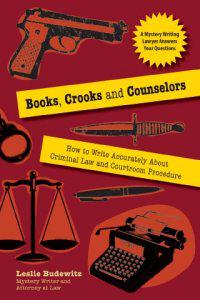 Leslie Budewitz is the author of Books, Crooks and Counselors: How to Write Accurately About Criminal Law and Courtroom Procedure (Quill Driver Books). She is a practicing lawyer and a mystery writer, and lives in Montana. Read an excerpt and more articles for writers, or send her a question, at www.LawandFiction.com