Always a pleasure to welcome back a returning contributor to VBU! Please raise a fork to Keely, author of Gormandize. Her previous recipes have been lovely, please do check them out: Turnovers (Paifala), Vegan Bean and Mushroom Jambalaya, and Chai Banana Loaf,
Connect with her on: Facebook, Twitter, Pinterest and of course her blog Gormandize. Welcome back Keely!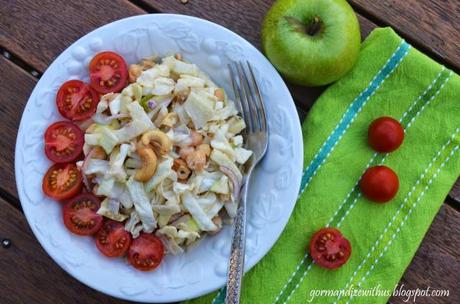 I call this little creation a 'tahini slaw' – it's essentially a coleslaw but the bulk of the creamy dressing is made from delicious nutritious tahini rather than lots of gluggy and nutritionally deficient mayonnaise. It's versatile, of course, so feel free to make your own adaptations. In this recipe I've used not just cabbage but thinly sliced fennel which gives it a wonderful crisp flavor and I've added a can of chickpeas to bulk it up a bit and turn it into a main event dish rather than a side. If you're just bringing it along to a bbq then you can choose to omit the chickpeas.
This recipe makes enough for 2-3 people to have a big bowl of it for lunch or dinner, or for 4-6 people to have as a side salad.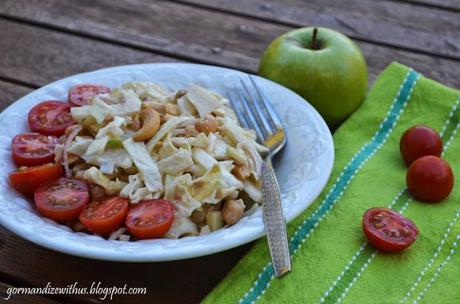 Fennel & Cabbage Tahini Slaw with Chickpeas and Cashews
Ingredients
1/4 medium green cabbage (you can substitute purple cabbage or a mixture of both)
1/2 large fennel bulb
1 small Spanish onion
1 small granny smith apple
1 400g can of chickpeas, drained
1/2 cup roasted cashews
2 tbsp unhulled tahini
1 tsp vegan mayonniase
1 tsp soy sauce
Juice of small 1/2 lemon
2 tbsp olive oil
Cracked pepper, to taste
1 punnet cherry tomatoes, washed and halved.


To Make
1. Very thinly slice the cabbage, fennel bulb and Spanish onion and toss together in a bowl. Cut the core out of the apple and cut into thin matchsticks. Add to the salad along with the chickpeas. Once you've added the apple, sprinkle a bit of the lemon juice over the salad to stop the apple going brown while you make the dressing.
2. Combine the tahini, mayonnaise, soy sauce, remaining lemon juice and olive oil in a small bowl or jar. Mix well to combine. It may be very thick at this stage, but don't worry it will thin out as you mix it through the salad. Season to taste with cracked pepper.
3. Add the tahini dressing to the salad and mix thoroughly until the salad is evenly coated with the dressing. Break up the cashews a bit with your hands and toss them in along with the halved cherry tomatoes. Mix well and serve garnished with extra cashews (optional).


Notes: You can use the cherry tomatoes to decorate the top instead of mixing them through if you like. 


Serves 2-3 as a main or 4-6 as a side salad.