Happy Valentine's Day everyone! Hope you and your special someone have a lovely day/night! Every day should be V-day and if you're feeling extra nice the very kind Becky, of Glue and Glitter fame, has a truffles recipe for you to try. Follow Glue and Glitter on: Facebook, Twitter, and Pinterest.  Welcome back Becky!

These almost-raw vegan truffles are a quick Valentine's Day dessert that you could almost classify as healthy!
It's almost Valentine's Day! I've been a little bit tired lately – this baby in my belly has me waking up every 2 hours all night long! – but I'm still managing a few DIY touches. We're having supper at home this year, so I made a little Valentine's Day decoration to hang up in the kitchen, and I ordered Dave's gift online but got a little bit crafty with the wrapping, at least…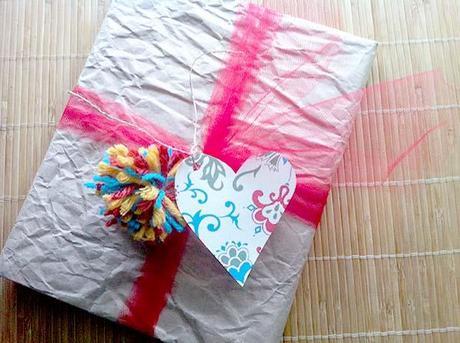 …and over the weekend, I started experimenting with raw vegan truffle recipes! This recipe is not totally raw, because I didn't spring for raw cacao powder. You could use cacao in place of cocoa powder, though, and make this a 100% raw dessert!
These came out great. The dates added just enough sweetness, and they were rich and chocolatey!
Almost-Raw Vegan Truffles
Nutrition info per truffle: Calories: 67, Fat: 3g, Sugar: 4.5g, Protein: 1.5g, Fiber: 1.5g, Carbs: 8.5g
Ingredients
1 cup

raw cashews

1/4 cup

cocoa powder (or raw cacao powder)

1 cup

dates, pitted (I used halawi dates, but medjool would work just as well)

2 tablespoons

water

Extra

cocoa or cacao powder, for dusting
Directions
Grind the cashews in your blender until they have a flour-like consistency, though leaving it a little chunky is OK. Transfer the cashew flour to a mixing bowl and whisk it together with the 1/4 cup cocoa powder.
Toss the dates and water in the blender and blend on high until they start to form a paste.
Transfer the date mixture to the bowl and knead until you have a nice ball of dough.
Divide into 16 balls, shaping each with the palms of your hands. Dust each truffle with cocoa powder, and chill until you're ready to serve!
I have some ideas for variations on this recipe that I still want to try, and I'll share any that turn out well!