Why not celebrate Cinco de Mayo in a totally delicious way? Becky from Glue and Glitter has the recipe for you! Oh my, that didn't mean to come out so cheesy. Ah well. Should I say so Daiya-ey? Ha! Becky has contributed before with her Almost Raw Vegan Truffles and Orange Ginger Dream Green Smoothie.
You can check out her crafts and vegan recipes on her website, Facebook, Twitterand Pinterest or learn more about her brand new book: 40 Days of Green Smoothies! Welcome back Becky!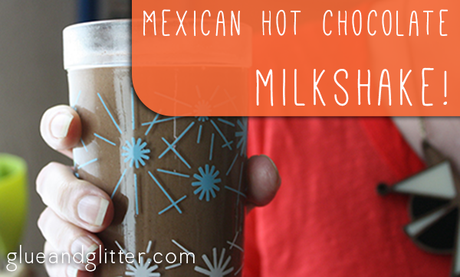 Happy (almost) Cinco de Mayo!
I made these Mexican hot chocolate milkshakes for my friend Jeanee's birthday, and they'd be perfect for celebrating the fifth of May this weekend! Check out how happy this shake made her on her special day: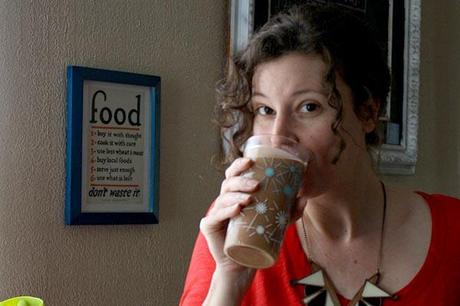 Mexican chocolate is more than just spicy. It's got a lovely blend of nuttiness, vanilla, and cocoa that makes it really special. It's also kind of hard to find, though, and I've never seen vegan Mexican chocolate. Luckily, with something like a milkshake you can create your own blend of these flavors to get the depth of Mexican chocolate without having to actually track down the real deal.
Mexican Hot Chocolate Milkshake
Yield: 1 shake
Ingredients
1 cup

vanilla ice cream (I used the vanilla soy ice cream from Trader Joe's)

3/4 cup

almond milk

2 tablespoons

cocoa powder

1/4 teaspoon

cinnamon

1/4 teaspoon

almond extract

pinch of

cayenne pepper
Directions
Blend it! Drink it! You're welcome!