The very talented Kayleigh, baker from Deerly Beloved Bakery has done it again. Deerly Beloved Bakery is a vegan bakery based in the UK in a small city called Norwich. It is run by a girl named Kayleigh who spends most of her days making wedding and celebration cakes, handmade chocolates and orders for local cafes. In her spare time she runs a vegan meet up group once a month and a vegan recipe and lifestyle blog. Kayleigh's recipes have been featured in the Fall Issue of Chickpea Magazine and The Vegan Woman. You can find out more about Kayleigh and Deerly Beloved Bakery atwww.deerlybelovedbakery.blogspot.com, www.twitter.com/deerlybelovedv and www.facebook.com/deerlybelovedbakery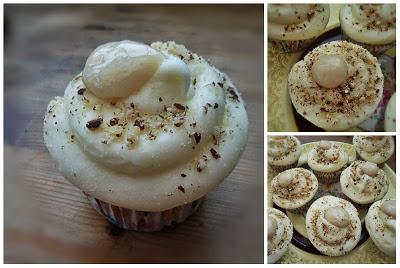 These cupcakes are awesome and hide a surprise of yummy caramel in the center! Full of Dulce De Leche caramel and hazelnuts these are just the thing for a spring party! The vanilla yoghurt in these give a lovely acidity that cuts through the caramel and the buttery flavour of hazelnuts perfectly, and make for a indulgent treat!
Ingredients:
Cup Cake Batter:
2 Cups of White Plain Flour
1 Cup of Organic unrefined Sugar
1/2 Cup of Chopped Hazelnuts
2/3 Cup of Canola Oil or Sunflower Oil
2/3 Cup of  Soya Milk or Hazelnut Milk
2/3 Cup of Vanilla Yoghurt (Alpro or Provamel)
1 tsp of Baking Powder
Dulce De Leche:
1 Carton of Coconut Cream (Blue Dragon)
1/4 Cup of Organic Unrefined Sugar
Pinch of Salt
Vanilla Icing:
4 Cups Of Icing Sugar
1 Tbsp of Margarine
1/4 Cup of Vanilla Yoghurt
Heat your oven to 200c and line a cupcake tin with cupcake cases. In a sauce pan bring to the boil the carton of coconut cream, sugar and salt. Once at the boil reduce to a medium heat and stir. Meanwhile add to a bowl your flour, sugar, hazelnuts, oil, milk, yoghurt and baking powder and mix with a hand held mixer until smooth and glossy. Spoon the mixture evenly into the 12 cup cake cases and place in the oven for 15-20 minutes until golden brown on top and a knife inserted into the cake comes out clean.
Meanwhile stir your dulce de leche mixture, it should now becoming more opaque and thick and will not easily run off your spoon, it takes a good 10-15 minutes to reach this point. Once it is thick and has a light golden colour, place to one side and make your vanilla icing.
In a bowl add the icing sugar, margarine and yoghurt. Mix with a hand held mixer until thick and stiff and will hold peaks. If it doesn't, add a little more icing sugar to thicken.
Now time to assemble! Take each cupcake and with a knife cut a small hole in the center of the cup cake. Then gently pull out the small piece of cake you have just cut, out of the hole. Fill the hole with a teaspoon of the dulce de leche caramel and then press the piece of cake back in to cover the hole.This will make for a lovely surprise when you eat the cake and find caramel inside! Then fill a piping bag (with a large smooth nozzle) with the icing and pipe a swirling pattern on top. Finish with a sprinkle of chopped hazelnuts. You can also wet a spoon and make a mini scoop of dulce de leche on top to finish! Enjoy! X