Gübelin unveils their Mystical Garden Collection Jewellery at the Gübelin Hong Kong Salon.  Give yourself a wonderful afternoon and see some of the finest jewellery that Gübelin has to offer their Hong Kong clientele.
The Gübelin Salon is so beautiful, bright and yet private. With a team of experts who not only have knowledge in gemmology, but a passion of history. Each Gübelin gem has a story to be told, enjoy the time this salon has to offer high above the busy street streets in Hong Kong.
This autumn/ winter, the family-owned House of Gübelin is diving deep into the interior of green colored gems and presenting Mystical Garden. The fascinating creations from this world of jewellery are based on the spectacular inner world of green gems.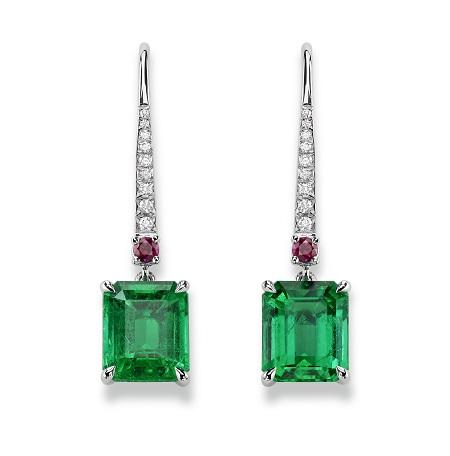 Gubelin Ancient Path white Gold_Drop Earrings Emeralds
Origin: Colombia
Drop arrings in white gold with two step-cut emeralds from Colombia, 1.94 ct and 1.76 ct, and 18 brilliant-cut diamonds totaling 0.08 ct.
Mystical Garden
Green gems such as emeralds and beryls, which harbour plant-like shapes within them, evoking images of trees and flowers, have inspired Gübelin to create Mystical Garden. This world also includes the Ancient Path and Ornament of Flowers lines.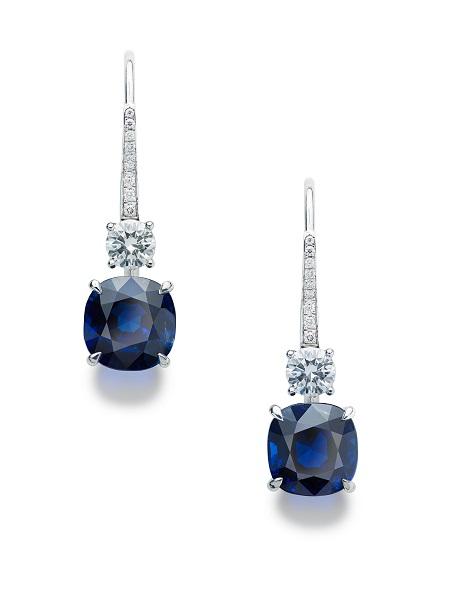 Gübelin delves deep into the mystery of sapphire
Ancient Path
The inner world of emeralds forms the basis for the Ancient Path line.  Microphotography of the gemstones reveals their inner beauty. Ancient Path was inspired by these shapes that are notable for their geometric structure, where nature displays its innate precision. Miniscule droplets, enclosed within the emerald as it forms, have adapted to the crystalline structure and now create a surprisingly exact pattern. Designers have taken these as inspiration for earrings that are centred around the gem.
The elegant Ancient Path white gold earrings are set with two intense green emeralds as well as brilliant-cut diamonds. Both emeralds in classical step cut are perfectly matched and display the typical inner world of Colombian emeralds. The origin of coloured gems is of key importance. The source of the most renowned and coveted gems is no doubt Colombia. This South American nation has been known for centuries for its emerald mining. Colombian emeralds are noted for their intense, deep colours, a saturated, slightly bluish-green.
Ornament of Flowers
The Ornament of Flowers line is based on the enchanting play of colours contained inside a gem. Within the gem, light is reflected by a thin liquid layer, creating a pattern that radiates in the most varied shades of colour. The designers have drawn their inspiration from this wonder of nature and created a platinum necklace centred around a glittering Colombian emerald of 2.84 ct. An entourage of diamonds in various cuts and shapes surrounds the coloured gem, lending the piece its brilliance. Round emeralds in this size and quality are extremely rare. Colombian emeralds are especially sought after  –  as with this necklace.
The inner world of gemstones
Immersing yourself into the inner world of select coloured gems, you will find a hidden, magical world of colours, shapes and structures known as inclusions. They are both the fingerprint of each gem and serve to indicate its identity, authenticity and origin. But these internal shapes within the gem do not just offer clues to its character; they are also fascinating for their individual aesthetic appeal. Inclusions in emeralds are known as "jardin". Eduard Josef Gübelin (1913–2005) is renowned as one of the leading gemmologists of the 20th century. One of his numerous publications includes the following comment about emeralds:
"The gardens of the emerald awaken the desire to wander at will, delighting eternally in the fantastic, constantly changing wealth of designs in their evergreen vaults."
(Eduard Josef Gübelin)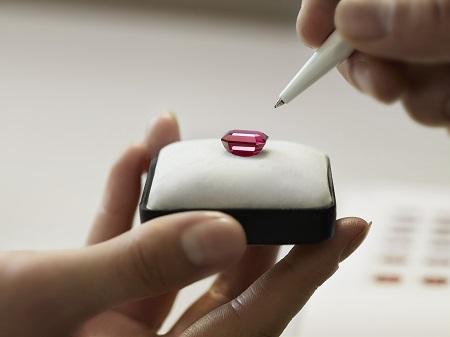 Gübelin Academy offers gemological corporate training for Cartier in China
Gübelin unveils Mystical Garden Collection Jewellery at Gübelin Hong Kong Salon
Experienced goldsmiths, jewel setters and polishers create the exquisite pieces based on Gübelin Jewellery's unique jewellery aesthetic. It is part of the Deeply Inspired philosophy, which pervades the company at all levels and stands for the combination of knowledge and beauty. "As a member of the sixth generation of our family-owned company, I am very proud of the way in which we combine beauty, knowledge and artisanship," says Raphael Gübelin, President of the Swiss family-owned firm. To symbolise this philosophy, each piece of Gübelin Jewellery contains a ruby. It is considered the king of gemstones and stands for passion and love.
Gübelin Salon. Room 3405-3406 Gloucester Tower The Landmark Central, Hong Kong+852 2264 6898.www.gubelin.com