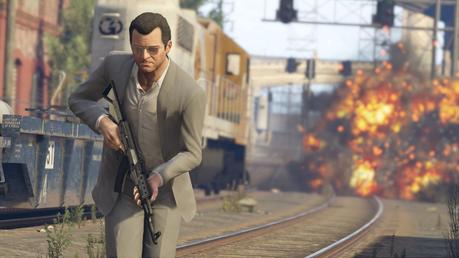 Sales of the PlayStation 4 and Xbox One versions of Grand Theft Auto 5 "should pale in comparison" to the Xbox 360 and PlayStation 3 versions, according to Wedbush analyst Michael Pachter.
The last-gen version went on sale last September and has since sold in over 33 million units. The next-gen version is due to go on sale next month.  Pachter made the comments during his latest report, discussing the reasons why he believed Call of Duty: Advanced Warfare will see improved sales over last year's Ghosts.
"We expect an increase in Call of Duty sales this year," he said, "due to the free upgrade feature, Day Zero access, less competition (EA's Battlefield Hardline launches in the March 2015 quarter, and sales of Take-Two's Grand Theft Auto V on next-gen consoles should pale in comparison to sales of the current-gen version of the game last year), and likely improved review scores driven by a three-year development, up from two-year development cycles for previous iterations."
Earlier this year, Pachter said that the PS4 and Xbox One versions "will have great appeal to those next generation console purchasers who have not yet purchased the current generation version, but we think this is a small subset of next generation console purchasers in 2013 - 2014."