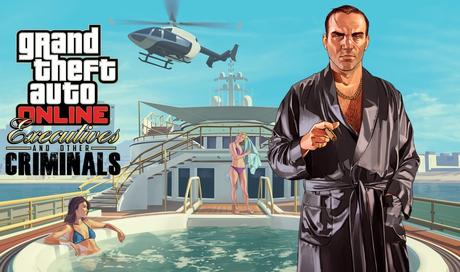 GTA 5 is getting ready for a new update that's about to be released in just a few days. This time, the GTA Online gets some new additions, which any player will enjoy.
According to Rockstar, the new update is called "Executive and Other Criminals" and it will allow the players to be VIPs and create their own crime rings. This way, they will have access to new gameplay modes, challenge, weapons, vehicles and more. There is also a new Super Yacht that has a spot for landing your helicopter.
At the same time, in Freemode VIPs will be able to play some new co-op jobs and challenges, but also try the new special abilities. The VIPs will also be able to recruit other GTA players as their bodyguards. The players that choose to be bodyguards will earn a salary and other special benefits as part of being a part of a VIP's crime organization. Freemode Events will automatically adjust once an organization is playing, so the gamers will be able to discover new challenges.
The new GTA 5 update also brings some vehicle variants such as the Turreted Limo or Super Yacht with its awesome missile defense systems. The Super Yacht can also be upgraded and get its own supporting vehicle upgrades such as the personal watercraft or the SuperVolito Carbon helicopter. There is also a new Extraction Adversary Mode, where the team of bodyguards will need to find an extract an Executive.
Unfortunately for the Xbox 360 and PlayStation 3 owners, this update will be released only for the current-generation consoles Xbox One and PlayStation 4. It seems that Rockstar has begun to leave out the Xbox 360 and PlayStation 3 from the new upgrades mostly because of the memory constraints.
The GTA Online: Executives and Other Criminals Update will be released for Windows PC, Xbox One and PlayStation 4 on December 15, 2015.