We were stalking Grunting Growler again, this time at a beer and food night The Salisbury Bar.  £25 included six courses with six beers, banter and new friends.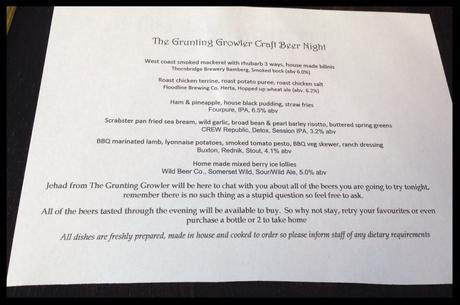 The tasting plates were to showcase the new menu at the Salisbury paired with various styles of beer.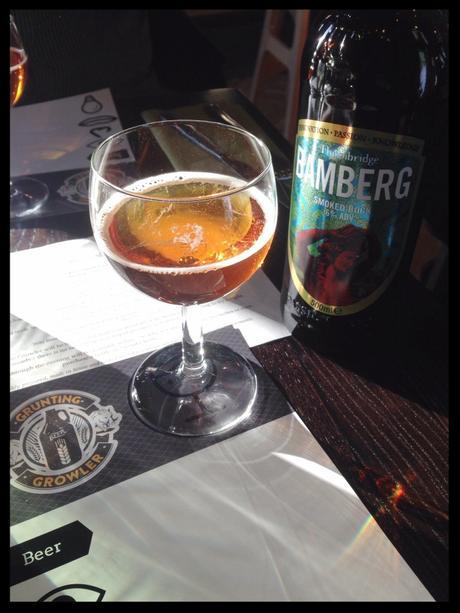 Bamberg by Thornbridge
First up was Thornbridge with Bamberg. We are huge fans of Thornbridge Brewery, especially Jaipur (if you see this on tap grab a pint!). Having also visited Bamberg, we were excited by this. A clean, crisp looking amber beer, this German bock style beer had a smoky aroma and the taste was lightly smoky too, but it didn't pack as much of a punch as we were expecting but considering smoked beers aren't common in the UK, it's a decent attempt/intro to smoked beers.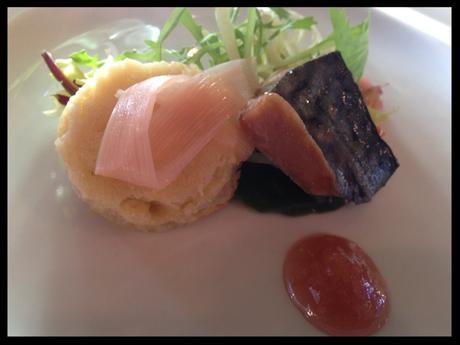 West Coast smoked mackerel with rhubarb three ways, home made blinis
The light smoked taste and aroma of the beer worked well with the mackerel, with the hoppy beer cutting through the fatty fish with the sweet/sour rhubarb. Unusual combo but it worked!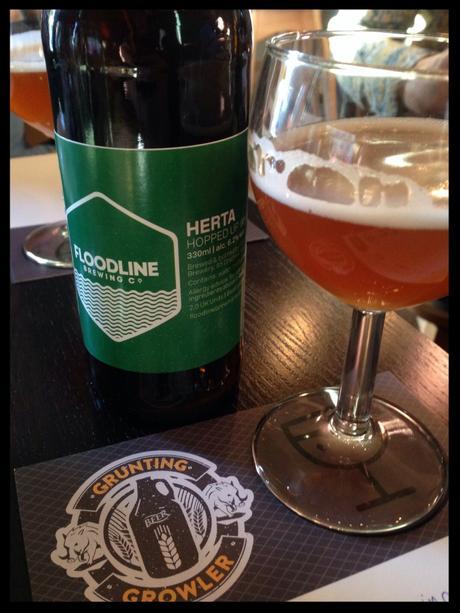 Herta by Floodline Brewing
This was our second taste of Herta, by new kid on the block Floodline. A cloudy, amber colour with a sweet smell and a light wheaty taste. At 6.2% it's not a session beer but easily quaffable.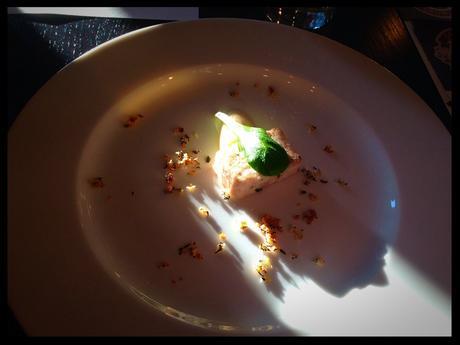 Roast chicken terrine, roast potatoe puree, roast chicken salt
Mmm chicken salt! We loved this, especially with the wheat beer, fab!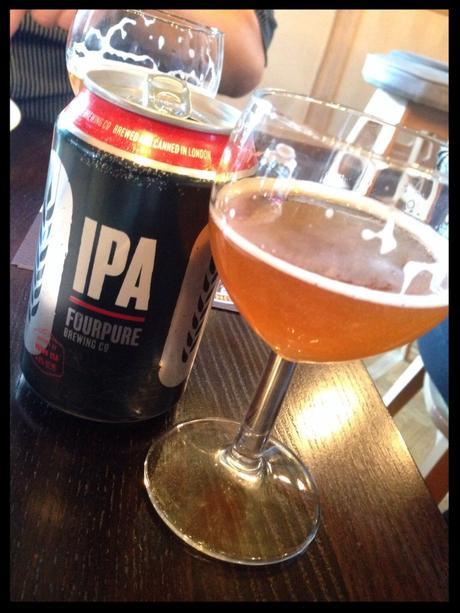 IPA by Fourpure
Fourpure IPA jumps out of the glass and slaps you in the face with its hoppy aroma. Think about that old Tango advert when you take a sip – wow!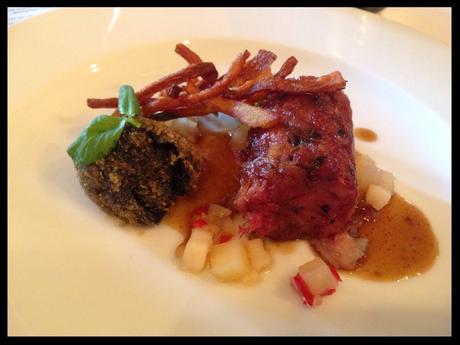 ham & pineapple, house black pudding and straw fries
OMG delicious! Another unusual combo but a work of wonder, the ham was delicious, and made the better with the inclusion of the fruit, black pudding and crisp fries – this was our favourite dish of the night. Seriously, get down there and try out the full portion!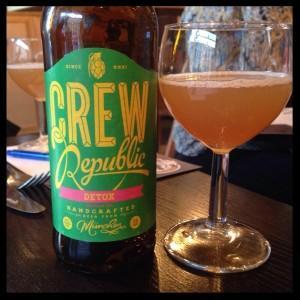 Crew republic – Detox
We had previously had this beer at The Bird in Berlin and weren't too keen on it but we were a bit merry then.

Trying this again, it was cloudy like a good apple juice with sweet aroma but we were still disappointed as it's noticeably watery and the taste doesn't live up the promising look and aroma.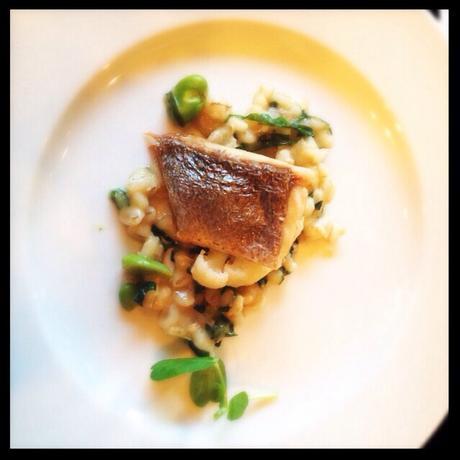 Scrabster pan-fried sea bream, wild garlic, broad bean & pearl barley risotto, buttered spring greens
More excellently executed food. The risotto was spot on and the dish saves the beer, giving it some oomph. We can now see why The Bird served this beer, it needs food!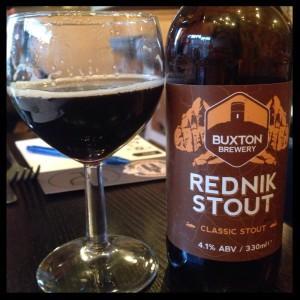 Buxton – Rednik
A light stout and nothing like Guinness, which is what most of us think of when stout is mentioned. Would be very easy to drink a couple of pints of. Very coffee-like in flavour with a burnt/roasted taste.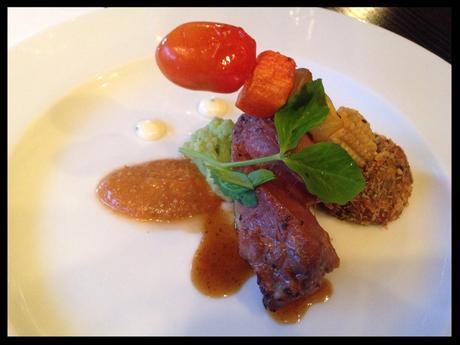 BBQ marinated lamb, lyonnaise potatoes, smoked tomato pesto, BBQ veg skewer
Moist lamb with a baby kebab. The taste of the lamb works well with the stout, easy to visualise drinking this on a summer day with some roast lamb or kebab and this was our second favourite dish of the evening.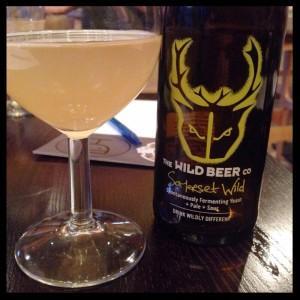 Wild Beer Co – Somerset Wild
Berliner Weisse-style made with wild yeast thus producing a sour beer and smelling like cold chips and ketchup but tasting more like a scrumpy cider than a beer! Interesting?!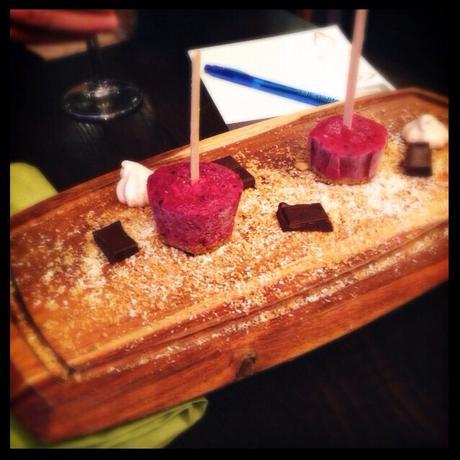 Home made mixed berry ice lollies
The dark Chocolate strangely works with the sour beer, it's almost as if the Belgians know what they are doing here! The sweet but sour mixed berry lolly worked well with the sour beer.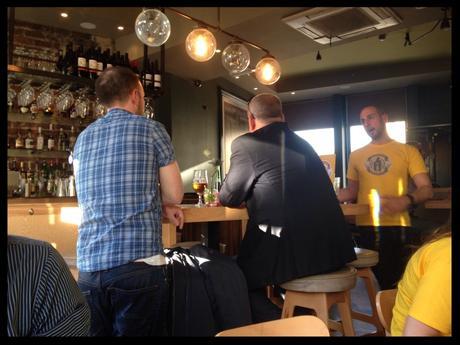 Jehad in full flow
A fab night with great food and beers that we hadn't tried before. We will be definitely be trying out more of the Floodline and Buxton beers.
Grunting Growler can be found on Facebook  as well as Twitter and has has a new growler pop-up at Peckham's and Rye on 21 Clarence Drive, Hyndland every Friday – Sunday from 10:00 – 22:00.