Grunge Gods and Graveyards
Kimberly G. Giarratano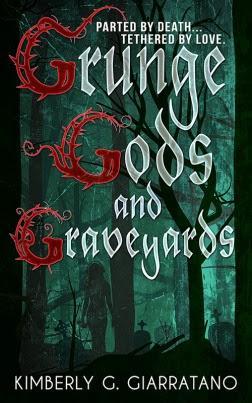 Parted by death. Tethered by love.
Lainey Bloom's high school senior year is a complete disaster. The popular clique, led by mean girl Wynter Woods, bullies her constantly. The principal threatens not to let her graduate with the class of 1997 unless she completes a major research project. And everyone blames her for the death of Wynter's boyfriend, Danny Obregon.
Danny, a gorgeous musician, stole Lainey's heart when he stole a kiss at a concert. But a week later, he was run down on a dangerous stretch of road. When he dies in her arms, she fears she'll never know if he really would have broken up with Wynter to be with her.
Then his ghost shows up, begging her to solve his murder. Horrified by the dismal fate that awaits him if he never crosses over, Lainey seeks the dark truth amidst small town secrets, family strife, and divided loyalties. But every step she takes toward discovering what really happened the night Danny died pulls her further away from the beautiful boy she can never touch again.
Amazon
Barnes& Noble  
Kobo 
GooglePlay 
Goodreads
MY REVIEW4 STARS
Entertaining and well-told, this book had me hooked early on.Lainey blames herself for the death of her friend and is having trouble at school as a direct result.Led by a malicious mean-girl most of her school-mates either ignore her or talk viciously about her.Then Danny's ghost appears begging her to solve the mystery of his death and clear his slandered name.
I loved the emotions this book evoked.Lainey is such a likeable person who finds herself in an impossible situation. I easily empathized with her internal struggles and the problems she faced both at school and with the town leaders.Her angst, anger, and gutsy determination to fight against the racial prejudices of small-minded people – greedy and self-serving power-wielders -- really resonated with me on several levels. I also liked slowly finding out more about the sweet relationship between Danny and Lainey as the mystery surrounding his untimely death unraveled.The tension and surprises kept me reading eagerly until the very last page.
This book was given to me in exchange for my honest review.
Reviewed by Laurie=J
Kimberly G. Giarratano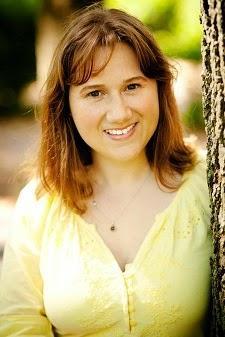 Kimberly G. Giarratano, a forever Jersey girl, now lives in the woods of northeastern Pennsylvania with her husband and small children. A former teacher and YA librarian, Kimberly adores Etsy, Jon Stewart, The Afghan Whigs, '90s nostalgia, and (of course) everything YA. She also speaks Spanish, but is woefully out of practice.
Kimberly always dreamed of being a published author. Her other dream is to live in Key West, Florida where she can write in a small studio, just like Hemingway.
You can visit her blog at kimberlyggiarratano.com or tweet her @KGGiarratano.  
Photo by Chris Van Beekum
GIVEAWAY
 a Rafflecopter giveaway
FOLLOW THE TOUR