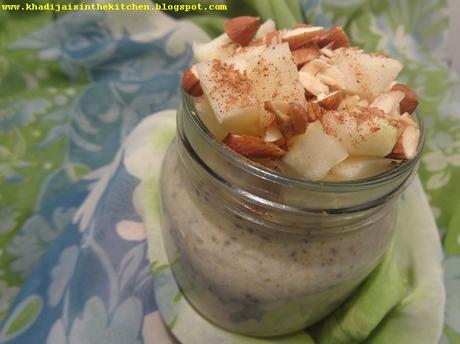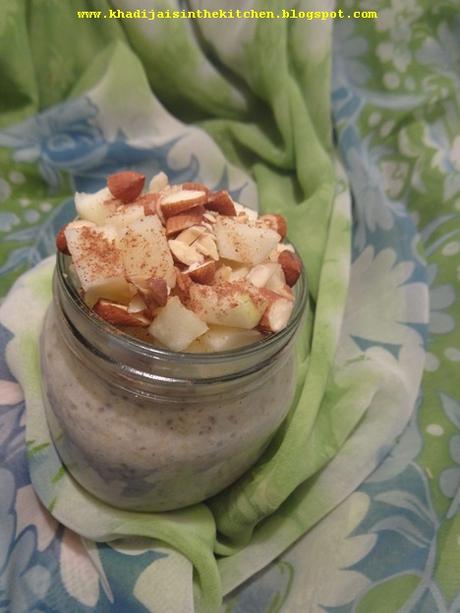 RECETTE / RECIPE /RECETA /الوصفة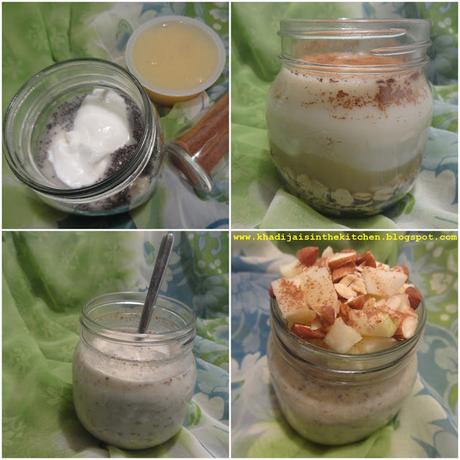 GRUAU DU LENDEMAIN
INGRÉDIENTS :
50 g de flocons d'avoine
½ cuillère à soupe de graines de chia
½ cuillère à café de cannelle
1 cuillère à soupe de sirop d'érable
250 ml de lait d'amandes
60 g de yaourt grec
100g de compote de pommes
Cannelle et morceaux de pomme
MÉTHODE DE PRÉPARATION :
1. Placer les flocons d'avoine, les graines de chia, le yaourt grec et la cannelle dans un petit bocal.
2. Versez dessus le lait d'amande et mélangez bien avec une cuillère.
3. Couvrir et garder au réfrigérateur pendant la nuit.
4. Le matin, mélanger à nouveau, ajouter des morceaux de pomme et une pincée de cannelle.
--------------------------------------
OVERNIGHT OATMEAL
INGREDIENTS:
50 g rolled oats
½ tablespoon chia seeds
½ teaspoon cinnamon
1 tablespoon maple syrup
250 ml almond milk
60 g Greek yogurt
100g applesauce
Cinnamon and diced apple
INSTRUCTIONS:
1. Place rolled oats, chia seeds, Greek yogurt, and cinnamon in a small jar.
2. Pour over the almond milk and mix well with a spoon.
3. Cover and keep in the fridge overnight.
4. In the morning, mix again, top with diced apple and a pinch of cinnamon.
-----------------------------------
AVENA DE REFRIGERADOR
INGREDIENTES:
50g de copos de avena
½ cucharada de semillas de chía
½ cucharadita de canela
1 cucharada de jarabe de arce
250ml de leche de almendra
60g de yogur griego
100g de compota de manzana
Canela y trocitos de manzana
ELABORACIÓN:
1. Colocar los copos de avena, las semillas de chía, el yogur griego y la canela en un frasco pequeño.
2. Verter encima la leche de almendras y mezclar bien con una cuchara.
3. Cubrir y guardar en la nevera durante la noche.
4. Por la mañana, mezclar de nuevo, añadir trocitos de manzana y una pizca de canela.
-------------------------
شوفان لفطور الغد
المكونات:
50 غرام شوفان
½ ملعقة كبيرة من بذور الشيا
½ ملعقة صغيرة قرفة
ملعقة كبيرة من شراب القيقب
250 مليلتر حليب لوز
60 غرام زبادي يوناني
100 غرام صلصة التفاح
تفاح و
قرفة
طريقة التحضير:
1. نضع الشوفان وبذور الشيا و الزبادي اليوناني والقرفة في(جرة) برطمان صغير.
2. نسكب حليب اللوز فوقه ونخلط جيدا بملعقة.
3. نقفل الجرة ثم نضعها في الثلاجة طيلة الليل.
4. في الصباح، نمزج الخليط مرة اخرى ثم نضيف له قطع صغيرة من التفاح و قليل من القرفة.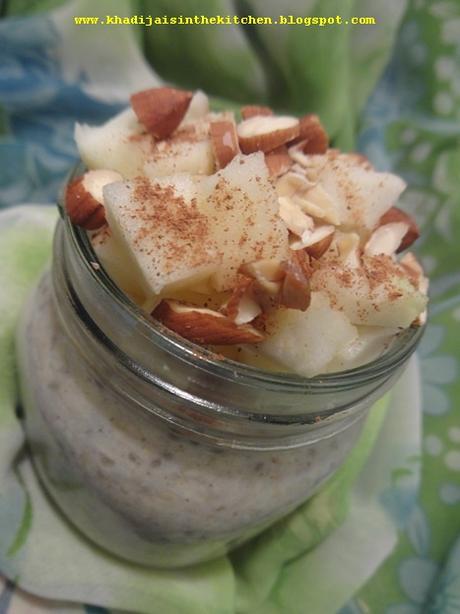 *******************
Hope you'll enjoy!!
********************
Pour d'autres idées de cuisine / For other cooking ideas / Para otras
ideas de cocina /
من اجل افكار اخرى للطبخ
:
Facebook
,
Instagram
,
Pinterest