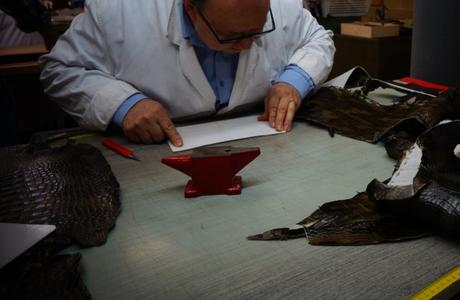 A few weeks ago I mentioned that I'm assisting the CNA, the Italian association of Artisans and Businesses in teaching leather technical terms to students in a leather artisan class. The idea behind the class is to train the "next generation" of Italian leather artisans who are not necessarily growing up in a family business or currently working in the trade, but who are interested in becoming skilled enough to create leather products from beginning to end.
I didn't realize how much I knew about the Italian leather industry until I started teaching! I was (am) really excited to be participating in this initiative, although I have to say that my opinion about "training" has changed since I started.
Something has become clear to me ... you cannot learn "expertise" in a classroom, the only thing that can make an exceptional leather artisan is experience, experience and more experience!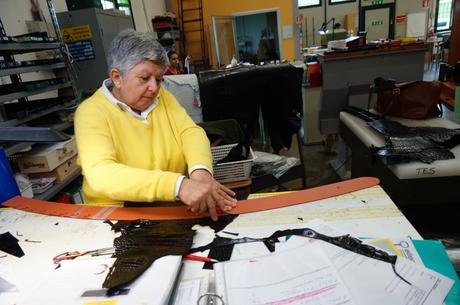 Gender Equality in Artisan Trades in Italy
On our first day of classes I was SHOCKED to walk in and find the students were 100% WOMEN! I was honestly expecting a mixed bag of participants and was more so expecting to see 20-something (fresh out of high school) guys! Instead I was greeted with women from 25 to 55 years old, many of whom had already acquired some experience in becoming Model Makers of leather goods!
I'm not sure why, but before living in Italy I always imagined the world of artisans as being primarily male, but this is ABSOLUTELY not the case! My husband's family business, for example, was started by his grandmother and then taken over by his mother who subsequently taught his father the trade and so on....
We've always had more women working for us because they are very detail oriented and precise but more so they also have a certain sensibility for fine craftsmanship that translates into a luxury product.
There is also an EXTREMELY high level of sewing skill that is required in leather manufacturing which is often inherited by women from other female family members when they are young (my mom would sew all of our clothes when we were kids and my grandmother taught me decorative embroidery!).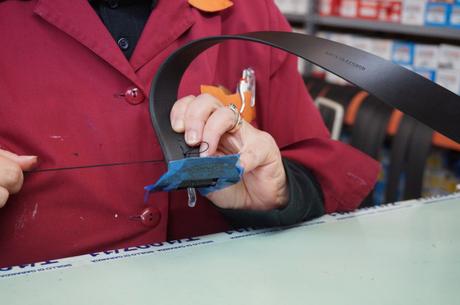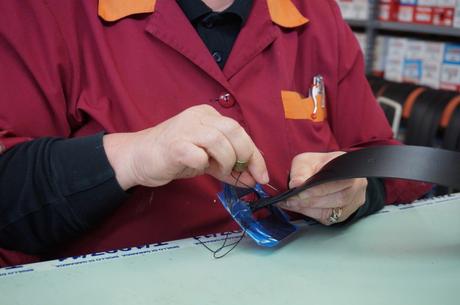 The women who I've had the pleasure to work with at my husband leather manufacturing business take so much care in everything they do. One of my favorite collaborators of all time is ten years my younger and with delicate hands and she lovingly paints each individual belt hole and the belt trim with the ease of an artist!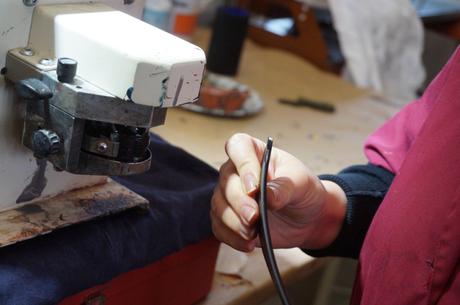 Women have always been involved in the realm of Craft and once you look at the thousands of trades that make up the luxury apparel market in Italy, it is no wonder that at the base of every trade you'll find women are the pillars. They are trailblazers who are able to set up their own workshops and some go on to create fashion empires!
The Story of Miuccia Prada
My husband loves to tell me the story of Miuccia Prada each time we go to the Galleria Vittorio Emanuele in Milan where you'll find the brand's flagship store.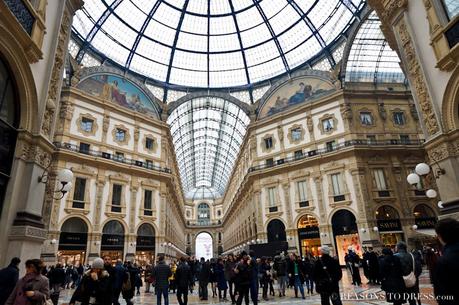 The "Famiglia Prada" had an important luxury leather luggage company in Milan serving the city's elite with small leather goods for travel and personal use. Miuccia went on her own way and studied political science (a self proclaimed feminist!) she was also a MIME for a few years in Milan!
At just 29 years old she decided to take over the family business and when she was 36 she gained international acclaim for a revolutionary collection of black textile bags and backpacks! Together with her husband they transformed a sleepy and stagnant family leather business into the billion dollar brand it is today.
As a side note, since my man and I are taking some huge risks this year and launching two brands we often remind ourselves with this story that success is an option and that I'm turning 36 this year! (hehehehe ... wishful thinking I know...but hey, we can dream!!)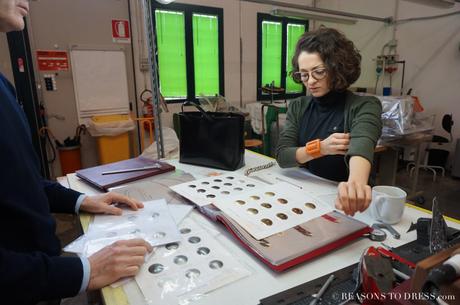 Can You "Learn" How to Be An Artisan?
This is a tough question.
The purpose of the course I am teaching for the CNA is to provide students who want to be a "Modellista Per Pelletteria" meaning a sample/prototype developer for leather goods such as bags, belts, wallets etc. with enough information so that they can easily enter the workforce as "experts" in their field. The course, which lasts for several months, includes in-class training with me and other teachers, a mentor, technical classes (to learn CAD programs and machines) and a brief 2-3 week internship with a company.
I just don't know if it's enough......quite honestly.
In many ways I see this course as being the first step along a long road of learning. My husband, for example, started working with his parents when he was a toddler!
He knows everything, I mean EVERYTHING about small leather goods, the quality of different leathers, sourcing, suppliers, where to find the best artisans, where to get the best accessories made, not to mention he can make you an alligator leather bustier from beginning to end with his own hands! He IS a luxury small leather goods expert, and still believes he has a LOT to learn!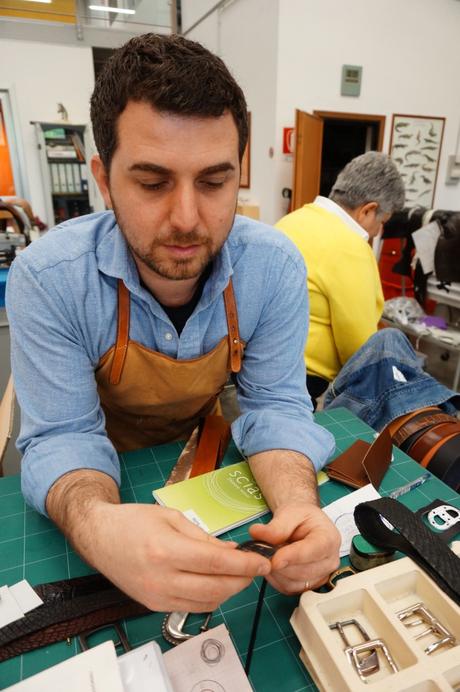 And then there are his parents! His mother has been HAND CUTTING exotic leather for her . His father, after 50 years of experience still runs into issues on how to transform a dream into a perfect product even after a lifetime of working in his trade. To learn a bit more about you can visit the website of their company here!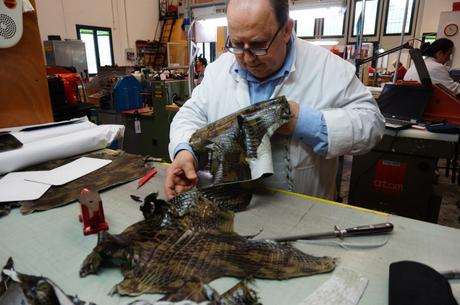 It can often be frustrating for me when my father in law talks about how you can go to "school" to learn how to "make a website" (which is what he thinks I do with the blog!!) but you can't learn how to be an artisan through school alone. No two pieces of leather are the same, unlike a piece of HTML code,you have NO CONTROL over the outcome!
A million variables affect every aspect of the production process and only an experienced professional can begin to understand how to manipulate non-synthetic materials to get a uniform outcome each time. And sometimes, even with 50 years of experience, they still mess up a whole production (and end up spending the nights and weekends in the workshop fixing it)!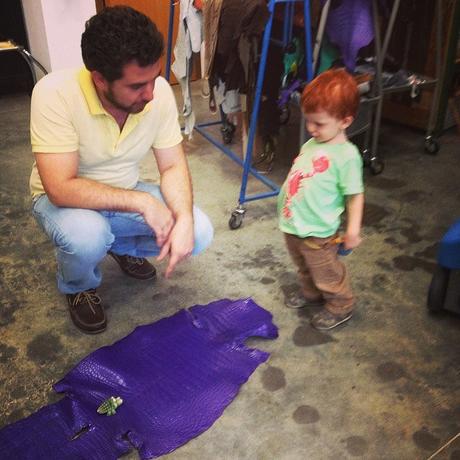 THE END OF ITALIAN LUXURY PRODUCTS!
The sad reality of the fashion industry now is that artisans are not really considered essential. In some ways I wish that UNESCO would protect the Italian manual trades the same way they protect physical spaces for their beauty. Once the last generations of artisans die out and their children decide that it isn't worth it to continue the family business, it really will signify THE END of luxury Italian products.
No amount of class room schooling can produce the type of artisans that have grown up in the bottega.
I'm working on a few posts as part of my "BUILDING OF A BRAND" Series on the blog and part of that is a desire to share the long, difficult process in turning an idea into reality.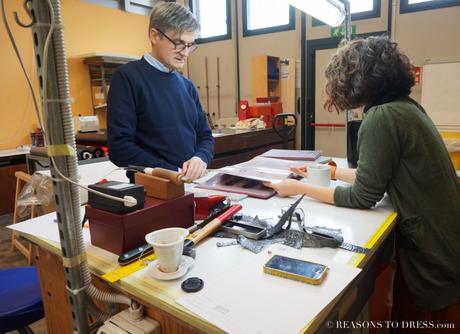 Every aspect of the process is filled with doubts and problems. For example I wanted to modify a simple leather bag with a beautiful big, brass chain detail......OH THE PAIN!
Rest assured that there are three professional artisans criticizing every single idea and design decision that comes my way to make sure the final outcome is beautiful, functional, long-lasting, luxurious and perfect!!!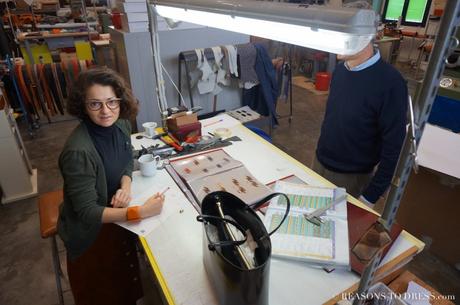 How much will it weigh? How will the chain fall when the bag is not in use? Will it be removeable or fixed? What type of finish and galvanization should it have to last forever? What measurement should it be so it doesn't touch the floor when the bags not in use? And on and on and on...for one simple little detail!!
Let's not get into the 150 other details that go into designing a bag!
This is why a true Artisan plays a hugely important role in the development of luxury goods and why I believe that once the artisans are gone the quality of all products will suffer hugely. We will loose a patrimony of knowledge and quality only to be replaced with mediocrity in a fast-fashion world that will have forgotten what "lasts a lifetime" signifies.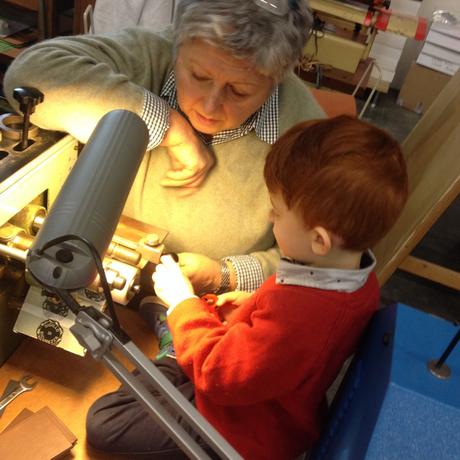 Why Study to Become an Artisan ?
In teaching these 20 women the technical side of leather terminology I was very curious to find out WHY they wanted to be prototype creators / model makers. The overwhelming response was.... so that they could create their own collections! They long to have the experience and technical know-how to make their designs a reality.
Time will tell if they are able to transform their dreams with their own hands into reality, in the meantime I applaud their effort and am happy to be a small part of the process.
As for my almost 4 year old son, he LOVES "going to work" with his nonni, and already knows how to work a few of the machines in our factory (we even hang out there on Sundays with his little friends!).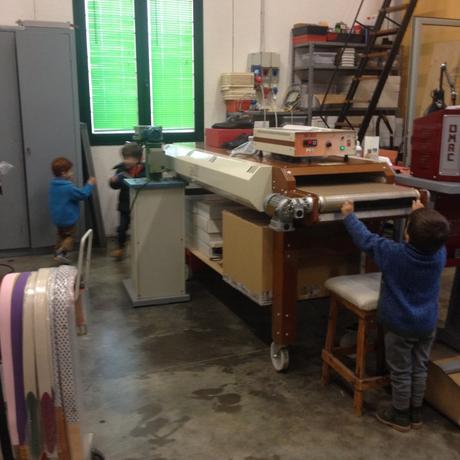 So far he is developing his first line of bracelets! This is from his first "collection" it is in multi-colored lizard leather bracelet that he braided all by himself!! It was my first Mother's Day gift that he made himself !! Not too bad for a pre-schooler and some floor scraps and who knows what he'll be up to in a few years!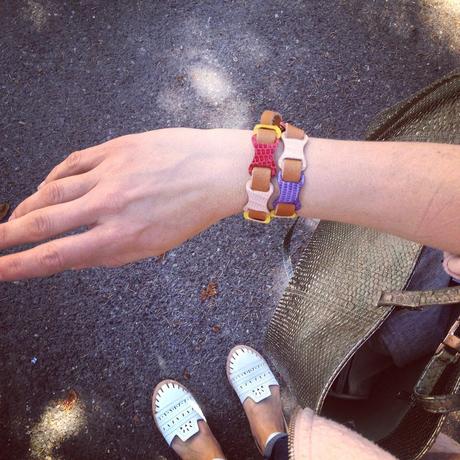 And YES...I'm taking orders!!