Have you ever wondered what it is like to live the life of a cheerleader? Well, I got a slight glimpse of it last week when I went to meet the White Mischief Gals when they came down to Kolkata with RCB for the league round match with KKR.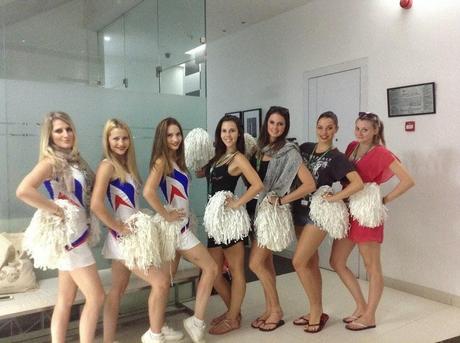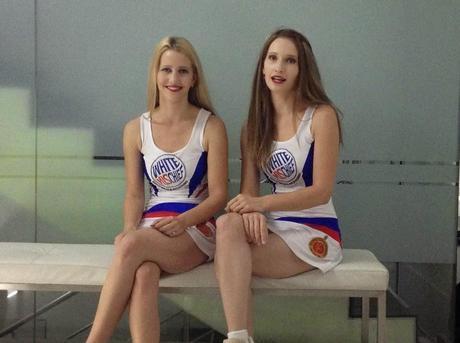 Some of the girls were not feeling too well because of the intense heat and humidity so our interaction got slightly delayed but it was a lot of fun meeting and talking to them. They showed a few of their signature moves, spoke about their experience of traveling around India with the RCB team and some of their fitness and makeup secrets too. (Cmon I'm a beauty blogger. Have to talk about  beauty and makeup right? :D) You think it's all glamorous and fun? Well, not exactly. Yes it involves a lot of travel and going to parties etc but there is also a lot of hard work involved. Imagine staying out in the sun whole day during day matches, always having to look glamorous and jumping around trying to pep up the teams. These girls have to go through rigorous training and they have to be extremely fit. I had a great time with them and yes I also got to try a few moves which was great fun. 
I got to groove with the White Mischief Gals in person but you can do it too sitting in the comfort of your own home, office or wherever. White Mischief has developed this really cool app called White Mischief Groove which allows you to morphe your face into the app and it will create a video of you dancing with the girls. Cool right? 
All you need to do is :
Click on this link - https://appstore.telibrahma.com/whitemischief/desktop/.
Enter your date of birth so that the app can verify you are above 25 yrs of age
Enter your name, mobile and email details and upload a frontal face image.
Once you click on submit, the app will send you a mail with a video of you dancing with the White Mischief Gals! Here's an example of what your video can look like. 
Try out the app. It's a lot of fun :D