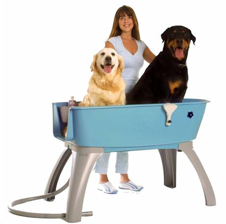 One of the main complaints that pet owners have about their dogs is how difficult it can be to groom a dog at home. Many instead take their dogs to groomers, spending big bucks for simple services like a shampoo. Taking your dog to the groomer can also be emotionally taxing on your dog, who can easily become stressed or anxious by the washing process in a strange location. Luckily, new products like the Booster Bath make it easier to groom your furry friend at home.
The Booster Bath is an elevated, portable bathtub that allows you to comfortably wash your dog either inside your home, or outside on a deck or in your yard. Booster Bath is safe for all sizes, as it comes in different sizes to match the needs of your dog. This revolutionary product will save you time, aggravation, and money.
Grooming a dog at home in your shower or tub is usually a pain. Not only does your entire bathroom get soaked from your dog shaking off and trying to escape the bath, but you're also bent over in an uncomfortable position trying to keep your dog comfortable and secure. Human tubs just aren't made for washing dogs. With the Booster Bath, washing your dog at home is much more simple and convenient. One of the best parts of the Booster Bath is the adjustable legs that will bring the bathtub up to your level. No more bending down!
The Booster Bath also allows your 360-degree access to your dog, so that you can get all of those tough to reach places. A no-slip mat and a 3-point restraint collar keep your dog safe and in place during the entire bathing and grooming process. A caddy attached to the side of the bath puts shampoo, brushes and any other tools you might need in close reach so that you can wash and groom your dog easily. The Booster Bath also has adjustable water volume controls, so that you can use a gentle stream for small dogs, or a heavy flush for big dogs with thicker coats.
The durable and lightweight Booster Bath has many great qualities, but the best is that it is portable and can be used outside. Simply hook up the Booster Bath to your outside hose and you have an outdoor bathtub perfect for grooming your pooch. The Booster Bath makes the drying and brushing process a breeze as well.
Gone are the days when you need to sit hunched over your bathtub, struggling to wash your dog as he tries to squirm away. The Booster Bath makes bathing and grooming your dog at home simple and fun. You'll get professional-quality bathing equipment that is easily stored when you're not using it for a fraction of the price of what you would spend in a year taking your dog to the groomer. Save yourself time and money, and your dog added stress, by investing in the Booster Bath for your at-home bathing and grooming needs.