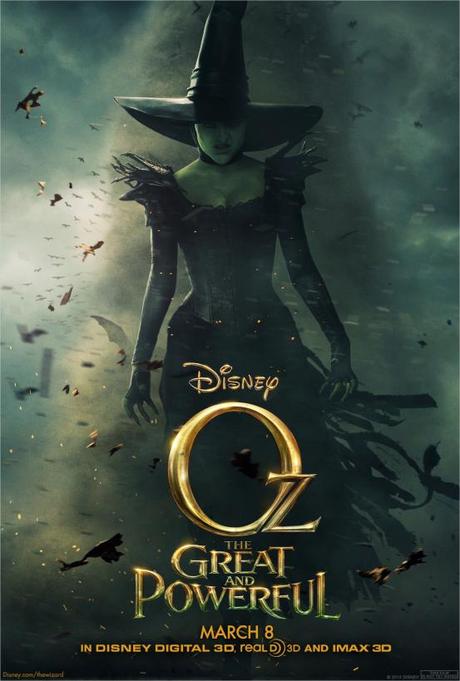 Title: Oz the Great and Powerful
Directed by: Sam Raimi
Distributed by: Walt Disney Pictures
Release Date: March 8, 2013
Rated: PG

Synopsis: A small-time magician arrives in an enchanted land and is forced to decide if he will be a good man or a great one. (Via IMDB)
Brian: From the moment I heard about this movie, I was hopeful. I love the Oz stories. I love James Franco. I love Michelle Williams. I love, love, love Sam Raimi. And yet there was rarely a time, despite all the great elements, that I thought this was going to be good. The trailers were pretty but seemed to depend more on visuals than a good story. And i couldn't ignore that the film was opening the same weekend as the dismal Alice in Wonderland three years ago. It's been seventy-four years since The Wizard of Oz, and I found it a little sad that this big-budget prequel doesn't have five percent of the charm as that original classic. The best part of the movie is the beginning, with Franco appropriately cheesy as a lame small-town Kansas magician. His scene with Michelle Williams, who plays Dorothy Gale's mom (!) in this early moment, has more entertainment value just in their dialog than in all the special effects the film has to offer from there on. I'm reading the entire Oz series throughout 2013, and the book I wrote last summer is a subversive modern day update of The Wizard of Oz. I love this world, and despite my concerns walking in, I really wanted to love this movie. Oz the Great and Powerful is a pleasant moviegoing experience, certainly not a bad one. But it just could have been so much more.
Shaunta: I was actually the hopeful one. Brian had a feeling this one wouldn't be as good as it could be–I kept telling him, no, no, it's going to be awesome. It's so pretty! The colors! And, I loved Alice in Wonderland three years ago. I did not love this movie, though. It was cartoony and too silly. James Franco's character was too much of a douche, all the way through, starting with abandoning Dorothy Gale's eventual mom and ending right at the very, very end when suddenly he was redeemed. Meh. I wanted to love this movie. I was prepared to. It was entertaining, but it was not great. Brian and I talked afterward about another movie, one that I hated and he loved, and how sometimes the expectation of greatness can reduce whatever merit a movie has. Like, if you go in not expecting much and the movie is okay, you're pleasantly surprised. If you go in expecting something on par with The Wizard of Oz, and you get an okay movie, it's disappointing.
Brian: Even the greatest of directors can fall under the weight of a CGI extravaganza, and it's finally happened to Sam Raimi, easily one of my ten favorite directors. A master storyteller who has given the world such varied gems as The Evil Dead, A Simple Plan, Spider-Man 2, and Drag Me to Hell, shows no personal style in Oz the Great and Powerful. His sense of humor, his sense of pacing; nowhere to be found. It doesn't help that many of the actors are miscast. James Franco is fine in the beginning but he's a little too corny, and and strangely non-reactive, once the character arrives in Oz. Within minutes he meets a witch, a talking monkey, a colorful magical land, and he has almost zero reaction. Mila Kunis is similarly mis-cast, given the weight her role needs in the second half. She can play a lot of things, but evil, not so much. Rachel Weisz is OK but about fifteen years older than the other main cast members, and feels a little out of place. The one who fits and really does try is Michelle Williams, who deserved a better script and sparring partner. Once Franco arrives in Oz, the film's lazy plot kicks into gear, involving Franco needing to kill off the wicked witch in order to become the ruler of the Emerald City; the stakes are set so low that it's a struggle to work up interest in what's going to happen next. There's no wonder, no joy to this film. Just pretty images, pretty actors, a film passable enough to make a profit and guarantee a sequel. It's too bad, because after this and the 80′s Return to Oz, I'm wondering if the world of Oz will ever get the second film treatment it deserves. I'm still hoping.
Shaunta: Oh yes, Mila Kunis is entirely mis-cast. Her voice is too recognizable, so even when she transforms into what is supposed to be a scary, green-faced witch, all I hear is Jackie yelling at Kelso on That 70s Show. Not scary. Not even a little. I thought Michelle Williams was better cast, except that she had exactly zero chemistry with Franco. Franco's lack of reaction to his strange surroundings really hit me when he was tenderly gluing a living china doll's legs back on. No freak out at all. I mean, he hopped off a balloon, which he'd just ridden through a tornado, and just bounced right into Oz like it was no big thing. So weird. The movie was pretty, but too cartoony. It didn't have the feeling of wonder that comes, even now, when you watch The Wizard of Oz and Dorothy steps into the colored world of Oz. The awe she feels is what is missing from the prequel, so it's missing from the viewing experience as well. On the plus side, though, we brought my daughter and her friend with us and they loved the movie. Ruby is still talking about it. And the rest of the audience were audibly enjoying the film, so it's entirely possible that us Story Carnivores are just too jaded, I suppose.