A truly delicious burger with tons of flavor is yummy and for sure lived upto its promise of being ultimate. The turkey burgers are succulent, soft, buttery and fluffy. Cheese make it more cheesy and topping of smoky aioli make it more tasty that deinitely suits your taste buds. Get ready to amuse your loved ones with the homemade Grilled Turkey Burgers with Cheddar and Smoky Aioli.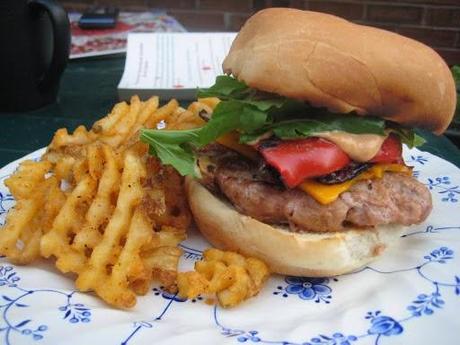 Serving: 4 Preparation Time: 30 mins Cooking Time: 30 mins
Ingredients
2 tsp Lemon juice
1 1/2 tsp smoked Paprika
1 pressed Garlic clove
1 pound ground dark-meat Turkey
4 sliced red Onion
 quartered red bell Peppers
4 slices white cheddar Cheese
4 sesame-seed Hamburger buns
Arugula
Pickle wedges
Corn chips
1/2 tsp Cumin seeds
1/2 tsp Coriander seeds
1/2 cup Mayonnaise
2 tbsp extra-virgin olive Oil
How to make
Grilled Turkey Burgers with Cheddar and Smoky Aioli
Step 1:
 In a skillet, toast cumin seeds and coriander seeds until turns aromatic and slightly darker in color, then grind them.
Step 2:
 In a bowl, whisk mayonnaise, olive oil, lemon juice, smoked paprika, garlic, and ground spices together, then season with salt and pepper.
Step 3:
 In a bowl, place turkey, then mix in 2 tbsp aioli.
Step 4:
 Divide the turkey mixture into 4 equal portions, then form each into patty shaped.
Step 5:
 For barbecue: Sprinkle salt and pepper on burgers.
Step 6:
 Brush onion slices and bell pepper pieces with oil, then sprinkle salt and pepper and grill them until charred per side.
Step 7:
 Grill turkey burgers until almost cooked through, then top each burger with 1 cheese slice and again grill until meat is cooked through and cheese melts.
Step 8:
 Place turkey burgers on the bottom of buns, then arrange grilled red pepper pieces and red onion slices over.
Step 9:
 Top with dollop of aioli and some arugula, then cover the burgers with bun tops.
Step 10:
 Serve with pickle wedges and corn chips.
MORE RECIPES