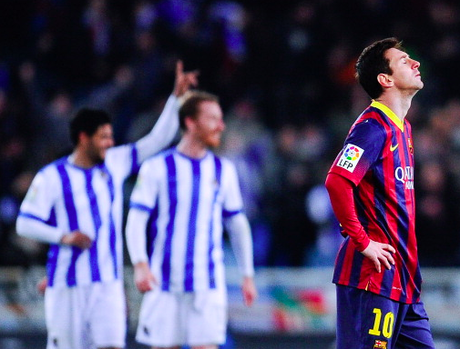 After a successful Champions League night in Manchester, Gerardo Martino felt at liberty to experiment with the Barcelona lineup away against Real Sociedad. Leaving Xavi and Fabregas on the bench, Martino chose a new midfield trio of Sergio Busquets, Song, and Iniesta. Even with the attacking trident of Messi, Neymar, and Pedro, Barcelona succumbed 3-1 to a much superior Real Sociedad.
Martino probably should have anticipated a tough match against the Basque side, considering that Real Sociedad remain unbeaten at home against Barca in La Liga since their promotion back in 2010. It wasn't surprising that the altered Barcelona defence of Adriano, Bartra, Pique and Montoya had difficulty against the dynamic and hard-working Sociedad attack. Carlos Vela up front supported by the left-footed playmaker Sergio Canales, along with Zurutuza and Griezmann on the wings quickly put the blaugrana on the back foot with their fast-moving combination play.
Thirty-two minutes in Barcelona conceded the first, with Song unfortunately redirecting a corner past Victor Valdes for an own goal. Just a few minutes later Barcelona briefly decided to right the ship, with Messi rifling a low shot into the corner after a brilliantly set up dummy by Sergio Busquets. With both sides even at halftime and Gerardo Martino sent to the stands by the referee, Barcelona looked ready to turn the game around in order to equal Real Madrid's 63 points at the top of the table. However it was Real Sociedad who came out in the second half with one-touch counter-attacks, cutting through the Barcelona defence at an alarming and impressive rate.

It took less than ten minutes for Real Sociedad to score, with Carlos Vela putting across a perfect pass for Griezmann to blast into the net to take the lead. Minutes later it was Griezmann who placed a curled cross for Zurutuza's late run (which none of the Barcelona defence picked up), the ball poked into the net with Valdes swiping Zurutuza off of his feet right after. Less than fifteen minutes into the second half, Barcelona were 3-1 down and unable to muster any sort of fire to fight back. Fabregas and Sanchez were quickly introduced in hopes of spurring a reaction, but the Blaugrana possession was slow-moving and inconclusive, while Real Sociedad continued to create goalscoring opportunities. The match ended with Barcelona not even using their third substitution, Martino perhaps realizing from the stands that he might as well let Xavi rest considering the dominance of the home side.
Now unbeaten in ten league matches (seven wins, three draws), Real Sociedad have scaled their way up to fifth place in the table, just behind Athletic Bilbao. With the race for the La Liga title as exciting as ever, the competition for the fourth spot (the final qualifying Champions League spot) is just as tight and exciting, especially with Real Sociedad playing wonderfully thanks to its set of starlets. Griezmann continues to be eyed by just about every top European club, and the resurgences of Carlos Vela and Sergio Canales have blossomed an attacking force which is tearing through La Liga defences. Real Sociedad have claimed three important points against Barcelona in their fight for fourth place, however when the summer approaches the club will have a new challenge in retaining Griezmann and the rest of their top players.