A face-off between Tiger Woods and Adam Scott at the Presidents Cup tourney in Royal Melbourne GC would certainly make great "must see TV" but is Greg Norman using the Aussie to unload his own sour grapes?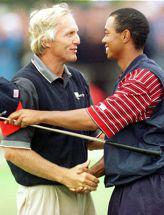 The Aussies (?...ha) are "sick and tired of losing," said Norman, whose International team hasn't won the Cup since 1998. Furthermore, Greg Norman was "dethroned" by Tiger Woods in the 1990's to become top-golfer in the world. This isn't just a case of "my yacht is bigger than your yacht," this is personal.
"Tiger and Greg don't speak," said a source who knows both men. "There's a lot of animosity between them."
Greg Norman has turned The Presidents Cup into a battle between Australia (not necessarily the "International Team") and the USA. Doing so, however, has had it's ramifications, with Couples now comparing Aussie golfers to Woods.
After Tiger Woods was slammed by Norman, Couples retorted with a comparative dig at Melbourne golfer Robert Allenby.
"Robert Allenby is his (captain's) pick, and Aaron Baddeley, and they're Australians and I think they're great picks,"claimed Couples. "But I think I can sit here and say Robert Allenby hasn't won a tournament in ten years.''
Other Aussies have jumped on the "trash-talking Tiger" bandwagon but members of Team Norman such as Geoff Ogilvy seem spurred on by Greg Norman's personal vengeance against the former world's number-one golfer.
Geoff Ogilvy, for example, does not agree with Team USA Captain Fred Couples' pick, "I'm not going to stand up and say Tiger is a horrible pick, but I'm going to say it's very disappointing that Keegan Bradley doesn't get to play."
Placing Adam Scott against Tiger Woods is also a personal slam against the former world's number one as Scott's caddie, Steve Williams, has said a few bitter words recently about his former boss.
That being said, an Adam Scott - Tiger Woods match would make for sensational end-of-season golf TV and both teams know it, as the Presidents Cup has never been as monumental as the Ryder Cup.
When Norman asked Scott if he had a problem going up against the former world's number one, Adam said, "Not at all. I'll play him and win a point for you."
Presidents Cup action begins Wednesday November 16th. Check your listings and voice your opinions about Tiger Woods on Twitter @Golf4Beginners and on Facebook.