from Revoltion News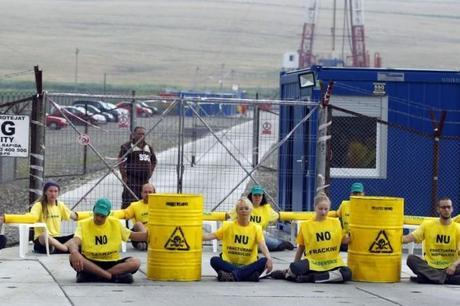 Around 25 Greenpeace activists blocked access to a shale gas exploration site in Romania on Monday, in a third attempt to scupper the drilling operations of US energy group Chevron.
Protesters locked hands and sat in front of the entrance to a drilling position in the northeastern village of Pungesti.
They prevented a lorry from entering and displayed banners reading "No to fracking".
Greenpeace activists from Romania, Austria, the Czech Republic, Germany, Poland, Slovakia and Hungary chained themselves to the fences and asked Chevron to leave the country.
The protest lasted for 15 hours, then the Police evacuated all activists, while media access was also forbidden on site.
Fracking is a controversial extraction technique that consists of injecting water and chemicals deep into rock to release gas.
Environmentalists warn that chemical-laced waste could contaminate fresh water resources, while the fracking itself could cause minor earthquakes.
Chevron started drilling its first exploratory Romanian well in May despite fierce opposition from residents who fear environmental damage in an area dependent on agriculture.
"Shale gas exploitation can not be done if it affects the life of hundreds of thousands of people living in the areas given in concession", said Laurentiu Ciocirlan, the Greenpeace campaign coordinator.