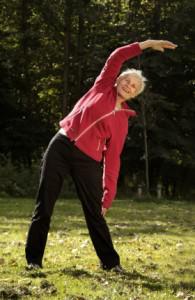 There are many ways in which you can choose to get fit, shedding unwanted pounds and toning or bulking up.  You can go to a local gym, join a class, or simply do it on your own from the comfort of your home.  But if you're trying to embrace an eco-friendly lifestyle you may be keen to try a routine that does less to damage the environment.  Most people will say this is a no-brainer; you can simply jog or ride a bike to get your cardio while you use your own body instead of weights or machinery to tone up (via push-ups, crunches, squats, and so on).  But for many people, high impact workouts are not an option, and their rarely-used muscles may not be able to support their own weight at first (necessitating the use of equipment).  For those who cannot take the easy option when it comes to reducing their carbon footprint as they get fit, here are a few ways to go greener with the routine.
Energy-free equipment.  Forget the Precor machines that guzzle electricity like it's going out of style.  Okay, they're not really all that bad – until you have a hundred of them lined up and powered on day and night.  Instead of using these electronic machines, opt for those that eschew the use of a plug.  There are power-free options for every type of workout machine, from elliptical to boxing equipment such as a punching bag.  So if you're going to go for machinery, make sure it is powered solely by you.
Alternative weights.  Unfortunately, there aren't too many green products on the market to fit this need.  Most weights are made with rubber, plastic, metal, and other materials that aren't eco-friendly in the least.  So what can you do to get your weight-lifting on?  There are a couple of solutions.  You can create your own weights in a variety of creative ways.  If you're not particularly concerned about the exact weight of the objects, pick up random items around the house to lift.  Or if you want an exact weight, get (or make) a bag that you can hold or strap to your arms and legs, then fill it with sand or soil from your yard (use a scale to achieve the desired weight).  You could also get an eco-friendly resistance band (made with a recyclable plastic/rubber combination called TPE).
Water sports.  Swimming is a great way to get resistance without impact, and the only equipment you need is an eco-friendly swimming suit.  Of course, you may be concerned about the energy required to heat a public pool (along with the water that is wasted).  In this case, you should find a natural body of water in your area that is clean enough to swim in.
Eco-friendly fitness facilities.  You might be surprised by the steps many gyms are taking to reduce their impact on the environment.  They may start small by installing recycled rubber flooring or using chemical-free, all-natural cleaning solvents, but many are going further by replacing wasteful appliances with water-saving alternatives (low-flow toilets and faucets with sensors) and even using equipment that harnesses kinetic energy (so that your movement not only powers the monitors on your machine, it also returns additional power to the system to help run lights and electronics within the facility).
Green gear.  When you decide to add a fitness routine to your life, you'll probably want to purchase appropriate clothing.  Be sure to look for brands that offer green solutions through recycled or organic materials (such as Gaiam, GoLite, and Patagonia for clothing and Brooks Sport, Inc. or Great Green Shoes for footwear).