0 Flares
0 Flares
×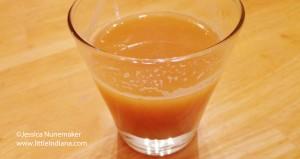 Green Star Elite Juice Extractor Review
little Indiana and family have been loving our Green Star Elite Juice Extractor–and use it constantly!
This handy small appliance is so convenient and easy to use you just won't believe it.
Green Star Elite Juice Extractor Review
Before the arrival of the Green Star Elite Juicer, we had never juiced anything!
Now? Well, my husband scours the fridge in search of things to throw together. Tomatoes, carrots, spinach, celery, blueberries, oranges, cherries…those are just a handful of things he's throw in (though not all together!).
My husband and I have been waiting for this moment: the time when our Indiana farmer's market is overflowing with apples! Fresh, beautiful apples right from the farm.
We've been wanting to try homemade apple juice and knew that the Green Star Elite Juicer would make juicing apples a snap. We were right!
Amazing Fruit and Veggie Juicer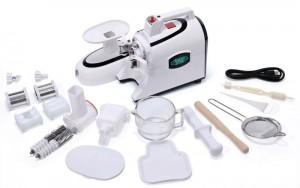 Green Star Elite Juice Extractor Review
This has been so much fun! Homemade juice does not taste like anything you would find at the store. It's so very, very good.
Using a three step process, crushing, mixing, and pressing, more juice and nutrition are squeezed out of every drop. It even keeps bubbles at a minimum to prevent a further nutritional degradation!
We were surprised to learn that you can throw in cubed Watermelon–without removing the rind! The same goes for several other fruits and veggies. Is that neat or what?
Think outside the box: it's far more than a juicer. Really, it's like five machines in one! The Green Star Elite Juice Extractor would have been so handy to have around back when we made baby food. You can even use it to make pasta with a special attachment.
Tribest Juicer Review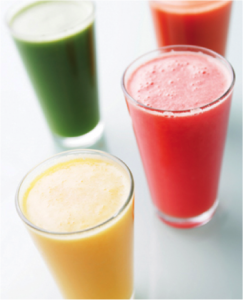 Green Star Elite Juice Extractor
Before agreeing to receive the sleek product, I wondered if it would be worth the counter space. Um, YES! A thousand times yes!
The Green Star Elite Juice Extractor has quickly become one of our most used kitchen appliances and for folks that spend as much time in the kitchen as we do–that says a whole lot.
Now, if you will excuse me, I've got juice to make!
little Indiana received one Green Star Elite Juicer in exchange for an honest review. Opinions remain mine and mine alone, as always.
Find pictures in Indiana on my Flickr photostream or on the new little Indiana Tumblr blog.
Just don't forget to tell 'em that  little Indiana sent you!
Don't miss a moment. Subscribe to little Indiana and receive instant updates to stay on top of everything "little."
little Indiana: Where to Stay, Play, and Eat in Small Towns in Indiana. Discovering Indiana's best small towns! Now get little Indiana on your Kindle.
Targeted. Relevant. Affordable! little Indiana advertising.