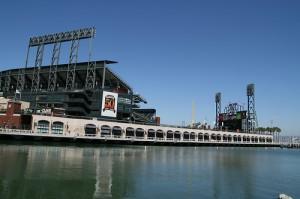 I know there is a massive climate change enhanced storm battering the East Coast of the US, but earlier week my beloved San Francisco Giants swept the Detroit Tigers in 4 games, in the same night that my beloved Soyoung and I had our wedding reception (awesome, right?) So as much as I want to weep and rail over idiotic climate change denialists, I gotta stay positive and give a shout out to my team, but not for their performance on the field but on the field itself.
We've talked about LEED stadiums before on 2nd Green Revolution, but the Giants' Pacific Bell Park just has one of the most beautiful and green stadiums in sports. Construction on the stadium began in 1997 and was a pioneer in green construction before the greater boom in sustainable stadiums in the 2000s, in Dallas, Seattle, Philly, Washington DC, and elsewhere.
According to a 2012 case study on the Giants' greening initiatives, Senior Vice President of Facilities Alfonso Felder explained that the decision to invest in the extra time and effort in going green was motivated at all times by cost savings, and the desire to add to an already environmentally innovative city. The same document also lists the following green accomplishments made by the Park:
First MLB park to be LEED Silver Certified
First MLB park to install solar power (123kw)
Achieved 100 percent waste diversion ballpark wide by 2012
Near 100 percent food packaging is recyclable
Irrigation clock establishes most effective watering times saving up to 50 percent in irrigation water use
Field soil composition changed to use 33 percent less water
So what have the Giants learned from going green over the past 15 years since the construction of the new stadium? The case study concluded that the Giants green success was due to one main factor, cooperation and discussion. Jorge Costa, the Senior Vice President of Ball Park Operations stressed the importance of first creating a commonly understood and agreed on green "mindset". Secondly he suggested forming a diverse but dedicated steering committee to coordinate the various departments within the organization and the external partners and contractors to push the vision and mindset into tangible results. Costa also suggests regular checkups on the state of green technology as well as partnering up with other companies and teams to pool resources and to foster new markets.
But going green isn't all about cooperation and vision, it's also about being realistic with the costs. According to Costa, "the single greatest issue that we face today is that it's not inexpensive to go green. That's just being flat out honest… You could say that LEED certification was an expense that might be hard to justify, but what we're finding is that it really does pay off over time" (you could say the same thing about Giant's pitcher Barry Zito's 7 year $126M contract).
So even though it's not a new stadium, nor is it the greenest, let's give the whole organization some props this week, and go Niners (and their future sustainable stadium)!
[via NRDC Giants Case Study]
[photo Creative Commons taken by Bernt Rostad]