Special occasions need to be celebrated in special places.
It was my good, long term friend's 50th birthday on 18 July and it didn't take much thinking about somewhere nice to go on that day.   We are very lucky to have Gravetye Manor about a 50 minute drive away, near East Grinstead.   It is an impressive country house hotel with a beautiful William Robinson garden.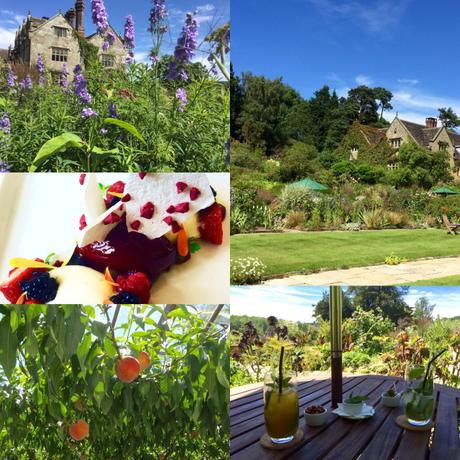 William Robinson, a professional gardener and author of The English Flower Garden moved to Gravetye in 1844 where he started to put his garden design idea into place.  He lived at Gravetye until his death in 1935.   In 2010 it was bought by Jeremy Hoskin who has turned it into the beautiful hotel it is today.    Tom Coward joined as head gardener in 2011 having previously worked with Fergus Garrett at Great Dixter.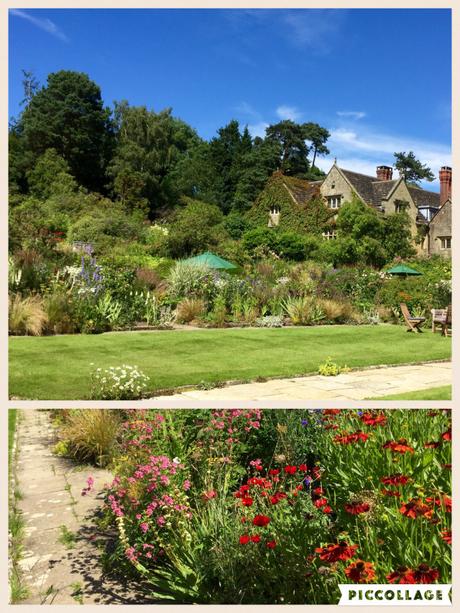 The garden is not open to the public unless you are eating or sleeping at Gravetye.   I have visited the garden on several occasions and booked in with friends for a rather splendid afternoon tea at £25 per head, and it goes to show the popularity of the garden that when trying to arrange tea, they were fully booked for many weeks ahead.   We pushed the boat out and booked a table in the Michelin Star restaurant for lunch, it was a milestone birthday after all.
We were met at the top of the steps, welcomed to Gravetye and taken through to the garden where we had pre-lunch non-alcoholic drinks and, a perused the delicious menu.   The meal was everything you would expect, starting with small amuse bouche of a warm pea veloute and roasted sesame seeds, ending with coffee and petit fours.  Each course was explained to us when it was brought to the table and we were not fussed over, although well looked after.  There is nothing more annoying than being asked every few moments if everything was alright.   Once well fed and watered, including a rather nice Picpoul de Pinet, (a Languedoc French white) we headed off to the garden, which is the main reason we were there.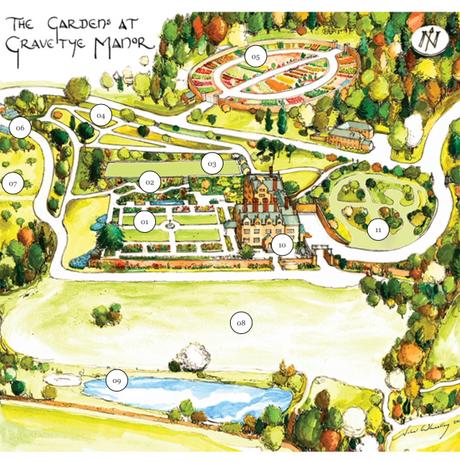 It was an exceptionally hot afternoon and we purposely planned not to visit the whole garden, the above map gives you a good idea of  its size.   We did manage most of it though.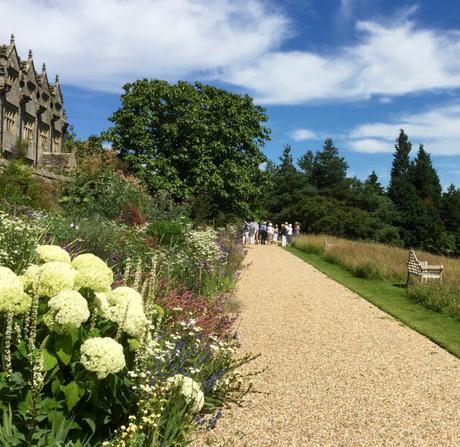 You can book a garden tour which includes a talk by Tom Coward as he takes you around the garden followed by lunch.  The small group above were enjoying being guided by Tom, and although we seemed to be following them a around we were keen not to look as though we were tagging on.  This long border faces over the wild grass meadow down to the lake.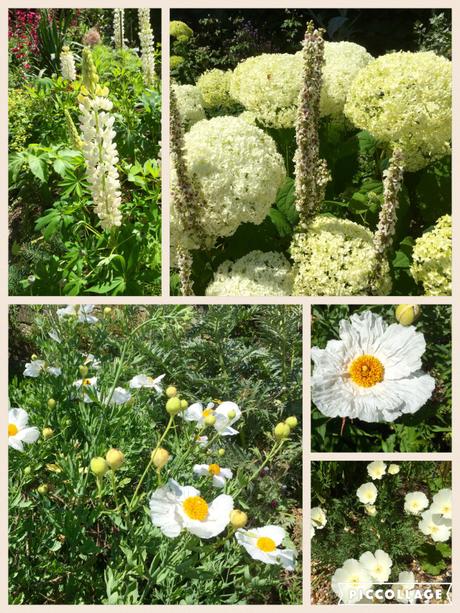 The garden is full of exciting plants, including a beautiful white hydrangea with blooms the size of your head.  I particularly liked the creamy verbascum growing through the hydrangea.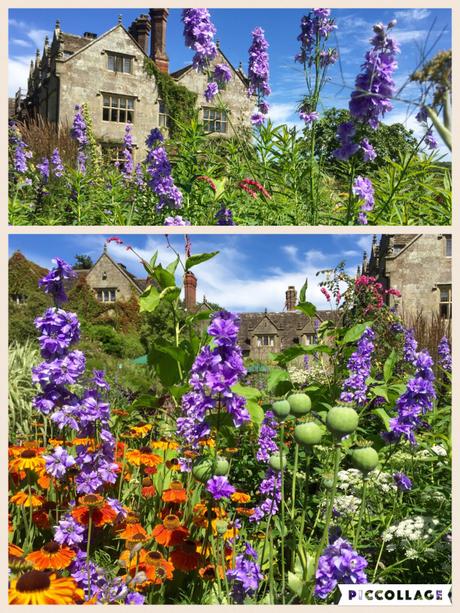 Gravetye is one of those gardens full of photographic opportunities, such as the larkspur, rudbeckia and poppy heads, with the stone walls of the house as a backdrop.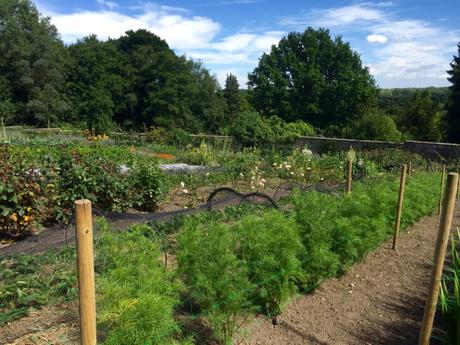 The kitchen garden is a sheer delight and full of interesting and varied produce which supplies the restuarant.   Apparently in July 30 punnets a day of strawberries are harvested.  We were told that the head chef very much dictates what is grown.  He will make suggestions which are trialed and if successful then given more planting space the next year.   It is at the top of the hill and in the heat of the afternoon we didn't linger too long and set off to the orchard and the greenhouses.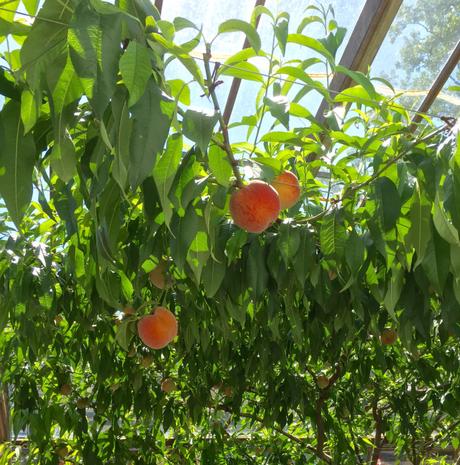 As you can imagine a greenhouse on a hot day is not somewhere you want to stay for long but we were blown away by the size of the peaches and their sweet, tropical, aromatic, aroma hit you as you entered.  Such temptation!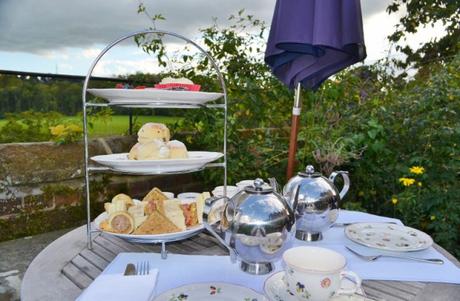 As you know we didn't have afternoon tea but I wanted to leave you with a photo of the tea I had with my friend Sandra in September 2014.  We sat in the patio part of the garden at the side of the house which overlooks the lake.  This is the link to that particular post, you will see the garden is still beautiful in September.
Chilling Out in the Gravetye Manor Gardens
If you have the opportunity to visit Gravetye Manor either for tea, lunch or staying as a special occasion, it is somewhere not to be missed and really should go on your 'To Do' list.
Gravetye Manor is in East Grinstead, West Sussex. The garden is open to hotel and restaurant guests. Pre-booked tours of the garden are available for small groups. Contact the reception team on 01342 810567 for further information. Check out their website http://www.gravetyemanor.co.uk.