So, some of you may know that I was on this little reality show.  For some reason I've been silent about that whole deal on my blog.  Not intentionally, I simply haven't had the time between reviewing and reading to showcase that entire experience, which trust me was awesome and totally worth of several blog posts.
ANYWAYS.  Saga was one of the books that I left immediately wanting to buy because of how it was talked up to me by my fellow cast mates.  Here is the synopsis from its Goodreads page:
When two soldiers from opposite sides of a never-ending galactic war fall in love, they risk everything to bring a fragile new life into a dangerous old universe.

From New York Times bestselling writer Brian K. Vaughan (Y: The Last Man, Ex Machina) and critically acclaimed artist Fiona Staples (Mystery Society, North 40), Saga is the sweeping tale of one young family fighting to find their place in the worlds. Fantasy and science fiction are wed like never before in this sexy, subversive drama for adults.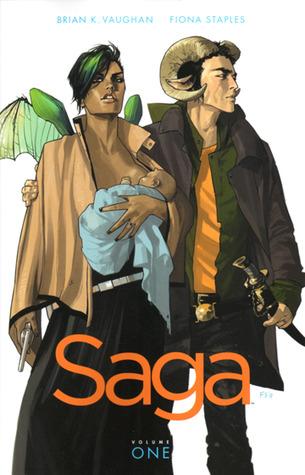 Well when it says this one is for adults, IT'S FOR ADULTS. (or, like, near-adults).  I wouldn't recommend reading this one on a plane or really any public place unless you totally don't care what people think about you.  It's sexy but in a super freaky way, which I can totally get into, but don't necessarily want strangers knowing I'm getting into… Get what I mean?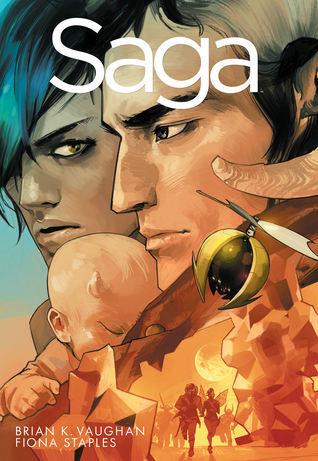 This story was immediately engrossing and pushed all the buttons I love pushed in fiction.  For heaven's sake, the main female character is giving birth and breastfeeding WITHOUT A COVER in the first few pages.  HELLO.  YES.
I cannot wait to get the second volume.  The only reason I haven't is because our house is all packed up and I really want to re-read this one before I start the second one, so I guess I'm in Saga Limbo until I'm settled.
What did you think of Saga?  Does it only get better from here?