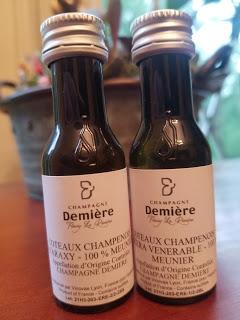 Still wines in the prestigious sparkling wine region of Champagne? That is what is covered by the
Coteaux Champenois
appellation that shares the same geographic region as Champagne. These two regions are located at the northern latitude of 49°N which is at the northern edge of France's vineyard-growing areas and thus experience the lowest average temperatures than any other French wine region. According to wine-searcher.com, "the majority of its vineyards are planted in a temperate maritime climate with slight continental influences, particularly in the southeast. These climatic conditions, combined with the region's latitude (48 to 49 degrees north), mean that the wines produced under the Coteaux Champenois appellation are, like their sparkling counterparts, dry and light-bodied with naturally high acidity". 
Production regulations for Coteaux Champenois allow for smaller geographical indicators on the label of Coteaux Champenois wines, all the way down to small, local (cadastral) titles. This is apparent in one of our wines today, from the "les Accaties" locality.
Pinot Meunier is one of the seven approved grape varieties in Coteaux Champenois and basically shares the same DNA fingerprint as Pinot Noir, Pinot Gris, and other Pinot grapes. The word Meunier is French for "miller", and refers here to the "floury" appearance of the underside of the vines' leaves.  Generally in Coteaux Champenois, Pinot Meunier is planted in regions that are too cold for Chardonnay and Pinot Noir to grow fruitfully.  In this regard, Meunier adds even more acidity and tartness to both still and sparkling wines. 
Champagne Demière is a sparkling wine producer that also releases still wines using the Coteaux Champenois regulations. In the Hopwine program, they showcased their innovated winemaking and aging techniques utilizing traditional wooden presses, egg-shaped vats, and a "champagne-styled" solera. This third-generation family domain operates estates around the village of Fleury la Rivière at the edge of the Montagne de Reims Champagne subregion. The terroir is distinguished by clayey-sandy soils, and of course, its famed calcareous subsoils including maritime fossils dating back to the Lutecian era. 
Champagne Demière  France - Champagne Coteaux Champenois Solera Venerable 100% Meunier
This "Vénérable" Coteaux Champenois Blanc is the oldest wine from the estate with the solera system dating back to 1978. Each year, if the quality of the vintage allows, the solera is augmented with 20% of the wine for that vintage. The original solera was stored in a wooden vat but has hence been transferred to stainless steel.  This is a complex wine with, green apples, lemons, and peaches associating with dried nuts. There's also a distinct tartness that sizzles with the intense acidity. 
Champagne Demière  France - Champagne Coteaux Champenois Ataraxy 100% Meunier
This Ataraxy Rosé, Coteaux Champenois originates from old vine Meunier plots located in the Fleury-la-Rivière locality "les Accaties".  The wine is aged 10 months in oak and is bottled in its natural state (no filtering and no fining). This is a fantastic rosé, starting with a peach aroma that leads to creamy and textured raspberries with noticeable saline. It is that fresh saline that drives my desire for more of this one.