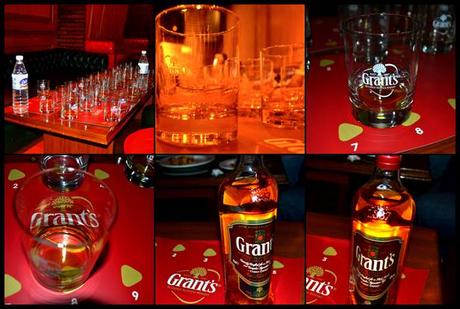 India is a colossal market for Scotch whisky. One peculiar thing that I have noticed about most of the Indians is that they are not very particular about brands. As far as they are satisfied that the Whisky they are about to soak up is a fine blend, they are happy.

Though there are few brands for blended whisky like Johnny Walker, Ballantines and Chivas Regal which enjoy a higher brand loyalty than the others.'Grant's' owned by William Grant & Sons is the 5th largest Scotch Brand in the world in blended whiskies. William Grant & Sons established in 1887 owns, apart from Grant's, some of the world's most popular Single Malt, Blended Scotch as well as Irish Whisky brands such as Glenfiddich, The Balvenie, Hendrick's, Sailor Jerry, Tullamore D.E.W. and Drambuie. They have recently launched Grant's Family Reserve whisky in India. At the tasting session held at Warehouse Cafe their ambassador Rob Allanson helped us in knowing a lot about the processes of how the Single Malt is brewed and matured, and how the blends are created. He also made us try the various malts which had passed through the different stages of maturing in the casks.

The interesting part is that a blend is created using so many different single malts still they are always consistent in taste. We enjoy our whisky in so many ways- On the rocks, neat, with water, with soda or with a soft drink. But the best way to get familiar with the flavours of a blend is to have it with just a little water. An undiluted blend is strong and bitter and as soon as some water is added, all the distinct fruity flavours become identifiable and the sweetness can be relished. 




Glenfiddich has a state of the art distillery and this Single Malt forms a major part of the Grant's Family Reserve blend.  We Indians are always on a lookout for good Scotch blends and it will surely not be too difficult for Grant's to establish a fair share in the market. I liked the aroma and savoured the taste of the blend. It will surely be a great addition to your house bar.