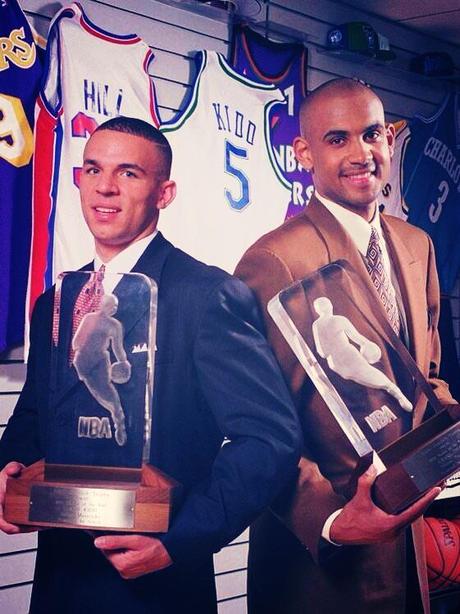 Jason Kidd and Grant Hill announced their retirement after 19 years of NBA career don't you know that they are co-rookies of the year too. I love this both dude on the floor.
Photo grabbed from Jason Kidd Facebook Fan Page
Jason Kidd finally is ready to walk away, championship ring on his finger and spot in the record books well established.
The 19-year NBA point guard finished his career in the bright lights, just as he played it. Kidd announced his retirement Monday, with two years remaining on his contract with the New York Knicks. So ends a run featuring 10 All-Star Game appearances, three NBA Finals appearances and two Olympic gold medals.
Kidd, who finished with career averages of 12.6 points, 8.7 assists, 6.3 rebounds and 1.93 steals in 1,391 games, came into the NBA with a rare combination of speed, size and unmatched passing ability. Picked second by the Dallas Mavericks out of California, he was co-rookie of the year in 1994-95 with Grant Hill, who announced his own retirement Saturday.
Photo grabbed from Jason Kidd Facebook Fan Page
J-Kidd, in his 6'4 frame, was fully equipped with basketball savvy & IQ from the heavens, underrated strength, and basketball vision you could only dream of having. The guy made seemingly impossible passes possible on offense, all while guarding 1s, 2s, and sometimes 3s on the other end. Add in his knack for grabbing boards, and a spot-up 3pt shot that came later in his career, and we're looking at a middle-class Magic Johnson — poor man's Magic wouldn't do Kidd justice.
Although it was at the expense of my Heat, it was good seeing Jason Kidd finally add a title to his resumè. He had led New Jersey — I'm shocked too — to the Finals in his earlier years, but couldn't quite get it done against superior opponents. Either way, he was an MVP candidate, a perennial all-star, and undoubtedly the best PG in the game in his prime. It sucks seeing him go, but it's safe to say seeing him inducted as a first-ballot HOFer in a few years will make up for it.
His Accomplishments:
-Averaged 12.6ppg 8.7apg 6.3rpg 1.9spg 40%FG 34.9%3PT 78.5%FT for his 19-year career
-10x All-Star
-1x Champion (2010-2011 Mavericks)
-Co-Rookie of the Year in 1994-95 with Grant Hill
-17x Player of the Week, 3x Player of the Month
-9x All-Defensive selection (4x 1st team, 5x 2nd team)
-6x All-NBA (5x 1st team, 1x 2nd team)
-2nd All-Time in assists, 12,091
-3rd All-Time in 3pt made, 1,988
-3rd All-Time in minutes played, 50,111
-6th All-Time in games played, 1,391
-5x assists per game leader, 3x total assists leader
-Finished in the top-10 in steals per game 12 times
Source: AP