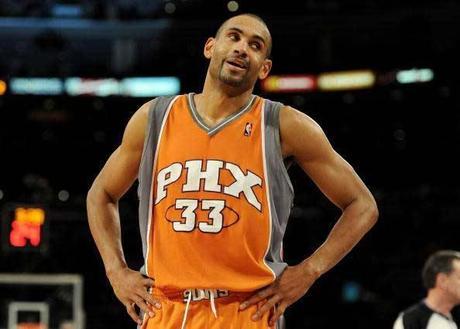 Photo: Getty Images
- Adam Parker
What if.
The most commonplace hypothetical and also the main phrase that comes to mind when thinking about Grant Hill's career in the NBA, which has undoubtedly been one of the most injury-plagued roller coaster rides any player has ever gone through.
Now comes the news that the Phoenix Suns small forward could be done for the season with a meniscus tear in his right knee that required surgery.
Hill, 39, is the second-oldest player in the league behind Portland's Kurt Thomas, who is only one day older, underwent arthroscopic surgery in September on the same knee. The procedure went smoothly, but Hill will likely be out until at least mid-April, if not the season. And quite possibly his entire career.
This is a huge loss for Phoenix, who is two games back and struggling to keep pace for the eighth and final playoff seed in the Western Conference.
Hills is averaging 10.7 points, 3.6 rebounds and 2.3 assists in 29.2 minutes per game for the Suns (25-26). He had previously missed a mere five games this season (two of which were just for rest between back-to-back-to-back stints), and the Suns were 1-4 without him in the lineup.
The importance of Hill to the Suns cannot be measured.
"He's our glue guy," Suns guard Jared Dudley said Wednesday night, according to the newspaper. "He calms us defensively. He's the best defensive player. He's the one who guarded Chris Paul at home and slowed him down. Offensively, he is efficient and gets out on the break and that makes other people guard him and open up 3-pointers. He posts up and makes the extra pass."
And more importantly, he's the team's co-captain alongside Steve Nash.
My guess, even though I hope I'm wrong, is that this latest injury will bring an end to Hill's 18-year career.
If it truly is the end, then it's a good time to look back at Hill's body of work in the Association.
When he first entered the league back in 1994 after playing four years under coach Mike Kryzewski, he was highly regarded as one of the potential future faces of the league in a time when Michael Jordan was retired.
In his first season, it seemed like Hill would live up to the hype and lofty expectations with averages of 19.9 points, 6.4 rebounds, 5.0 assists and 1.7 steals per game. Those numbers garnered Hill a share of Rookie of the Year honors along with Jason Kidd.
At that point, it looked as if Hill was on the fast track to the Hall of Fame. In fact, those numbers are eerily similar to someone else's rookie year -- LeBron James. That's right. The same LBJ that many tout as the best player in the game today averaged 20.9 points, 5.5 rebounds and 5.9 assists per game for his rookie season.
Shocking, right?
So, to put it simply, I'm answering the what if question I made at the start of this article. If this truly is the end of the line for Grant Hill, then he is undoubtedly headed for the Hall. After all, if the injuries hadn't derailed his career, Hill was arguably LeBron James before LeBron James was LeBron James.
After the first six seasons of his career, before his ankle injury, Hill had a total of 9,393 points, 3,417 rebounds and 2,720 assists. The 'Walking Triple-Double' Oscar Robertson, Larry Bird and LeBron James are the only three players in league history to eclipse these numbers after their first six seasons.
Oh, and did I mention he's scored over 16,000 total points in his career?
And if that wasn't enough, Hill is a class act of the like you just don't find anymore in today's sports era.
If it truly is the end, then it's been a helluva a fun ride, Grant.
We here at Beard and Stache will be looking forward to your Hall of Fame induction speech.
Be sure to follow Beard And Stache on Twitter 
@BeardAndStache
, 
and also Adam 
@Adam_Parker43
, Like our Facebook page 
HERE
!