I've been dancing around this issue since I started this blog in January…  Grain Mills. Yes, I have one.  Two, actually.  You may be wondering what I wondered a few years ago:  What is a grain mill, and why would anyone want or need to own one?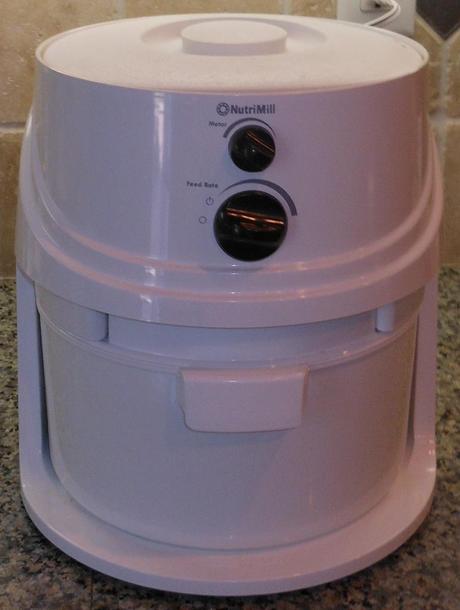 Let me begin with the easy question, "What is a grain mill?"  A grain mill is an appliance that grinds grain into flour.  There are both electric mills and human powered mills (with a hand crank).
The next question, "Why would anyone want or need to own a grain mill?" has many possible answers.  Here are a few:
1.  Flour begins to lose nutrients as soon as it's milled.  When you grind flour at home, your flour is  fresher and retains more nutrients than flour purchased at the grocery store.
2.  Many people have issues with gluten or other food allergies, but specialty flour is EXPENSIVE!  When you own a grain mill, you can grind your own specialty flours at a fraction of grocery store prices.
3.  Many people are concerned about pesticides and GMOs.  When you grind your own grain, you choose where it's purchased and can opt for organic, non-GMO grain which will give you organic, non-GMO flour.
4.  Fresh tastes better.  The fresher your flour, the better your baked products will taste.
5.  It is much easier and less expensive to build a long term food storage using whole grain (it stores longer than flour), but you need a way to mill (grind) your own flour so you can use what you have stored.
This is not an all-inclusive list, but those are the most common reasons I've heard for grinding your own flour.  When I bought my first grain mill (this hand crank version), I did so, because I had wheat in my long term food storage.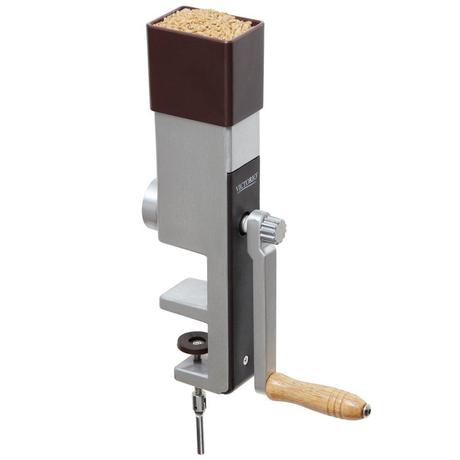 Victorio Grain Mill – Hand Crank.  Photo Courtesy of Amazon.com.
While there are ways to use wheat without grinding it, I wanted to be able to bake with flour made from the stored grain.  It made sense to buy a hand mill, because I didn't think I'd use it that often.  Plus, it always works whether or not I have electricity at my house.  However, after a while, I realized that I wanted to cook with more whole grain flour, and I just didn't have the patience or arm strength to grind all the grain I wanted to use by hand.  So I started researching grain mills.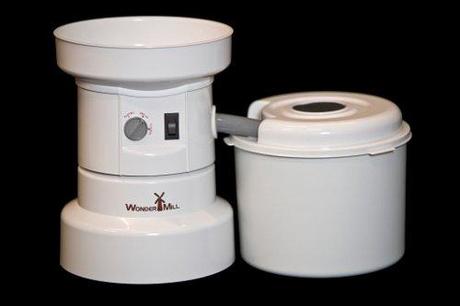 WonderMill Grain Mill.  Photo courtesy of Amazon.com.
The two most popular electric home grain mills are the Wondermill(see it here) and the Nutrimill (see it here).  Both had an avid following, and both seemed like good mills.  I chose the Nutrimill, because I liked the idea that I could turn off the grain mill in the middle of grinding wheat without damaging the mill.  Plus, I knew a few people with the Nutrimill, and they were all very happy with it.  Of course, grain mills are a bit pricy.  I've seen them ranging in price from $220-260.  Definitely something I'd need to save up for if I was going to buy it out of my grocery budget.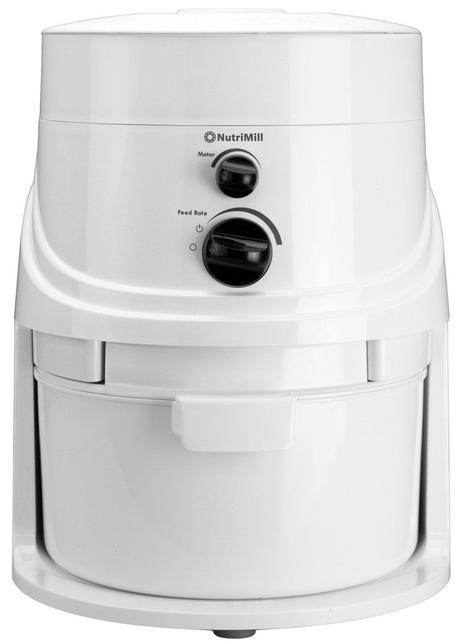 NutriMill Grain Mill. Photo courtesy of Amazon.com
Around Christmas, I found my Nutrimill on sale on Amazon.com and promptly told my husband that I wanted the Nutrimill for my Christmas present.  I was breaking a couple of my own rules in doing so. 1. No kitchen appliances for gifts.  2.  I don't like giving a gift "list."  I think those giving me a gift should know me well enough to know the types of things I like.  Of course, my husband is pretty awesome and would have picked a lovely gift for me, but I wanted this more than anything else, and I knew he wouldn't buy it, because I have repeated those rules a few times over the last 24 years of marriage.
So, I ordered my own Christmas present (breaking another of my self-imposed rules), and it didn't matter that I broke all my rules.  I had my super fancy grain mill.  And I *LOVE* it! I've used it numerous times to grind winter white wheat and brown rice into flour.  Yesterday, I used it to grind my Ezekiel Mix.  (Today, I'm making it into Ezekiel bread, so stay tuned for tomorrow's post with more details about Ezekiel mix and bread.)  Thought you might want to see how simple it is to use a grain mill, so I took some pictures for ya!  Here they are.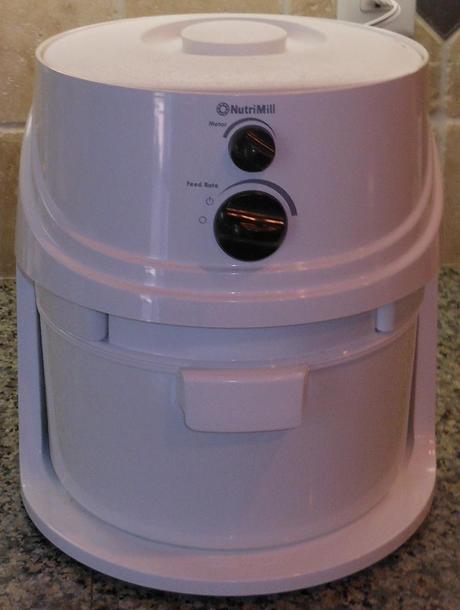 I started with my beloved grain mill. Yes, I really do love it. I know I probably shouldn't, but I do. It is my favorite kitchen appliance right now, especially since I needed to grind about 20 cups of flour yesterday, and that would have taken me well over an hour or two with my hand mill.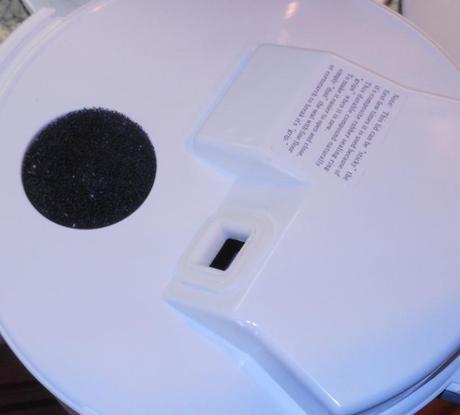 I pulled out the flour receptacle to make sure my filter (the little black circle was clean). I clean it before I put my mill away, but I always double check, just in case. My mill came with two filters, so I can wash one and let it dry and use the other one. That way, I always have a clean, dry filter.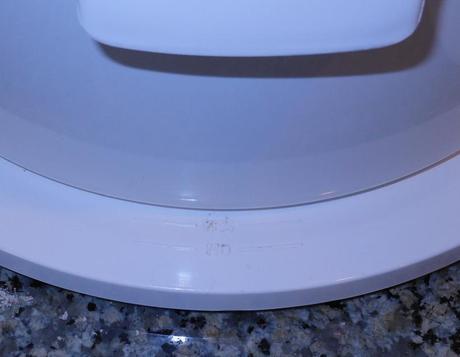 I pushed the flour receptacle back into the mill. It takes a little pressure, because it naturally stops at the "no" line (see picture). With a little pressure, it pops into place forming a tight seal with the mill. This helps contain the flour, so it doesn't blow all over my kitchen.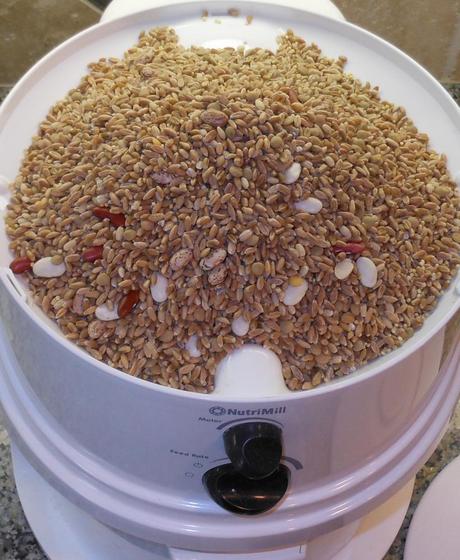 Next, I put in my Ezekiel mix. See that lovely mix of wheat, rye, and beans?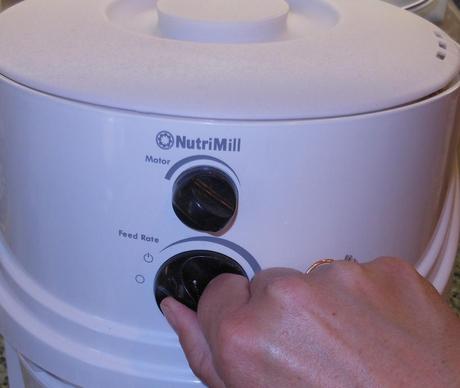 Then, I simply turned it on, and let it work its magic.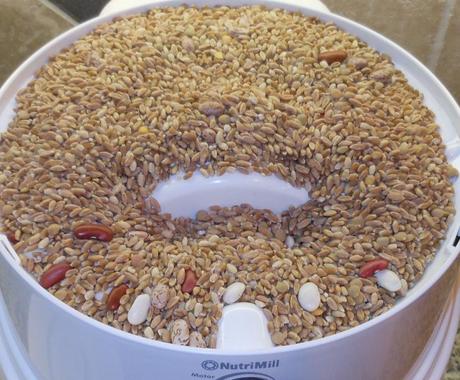 It made fast work of the Ezekiel Mix!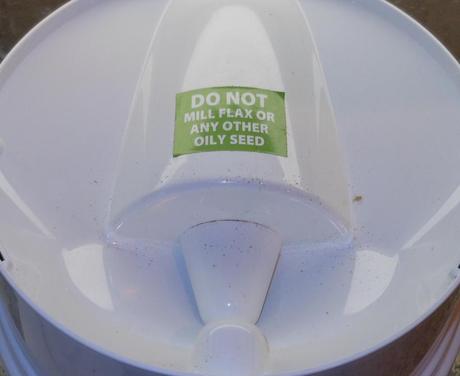 I didn't time it, but, in well under 5 minutes, I had about 20 cups of flour from my Ezekiel mix. Yeah, for fast and easy!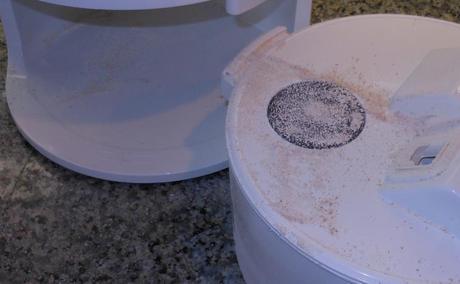 I pulled my flour receptacle out and twisted the top to reveal the flour. There was a tad bit of flour around the filter, but that's okay. Most of the flour is tucked safely inside the flour receptacle.  Plus, that flour isn't bad.  I put it into my bag and plan to use it!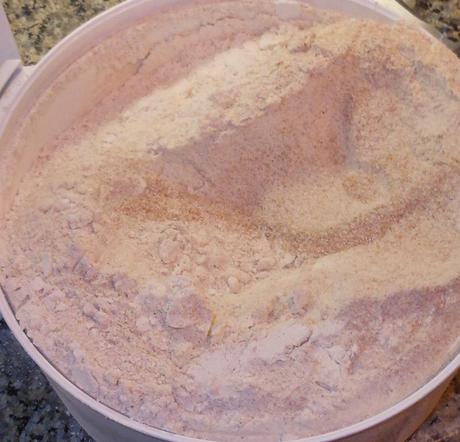 See that beautiful, fine flour? Can't wait to use it to make my Ezekiel bread!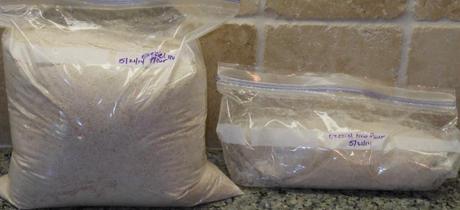 I put my flour into two Ziplock bags, labeled it, and put it in my freezer. While it's not required to store it in the freezer, I prefer to keep my freshly milled flour in the freezer, because it retains more nutrients and stays fresher.
That was easy, wasn't it?  Think you would grind your own grains if it was this fast and simple?
* * * This post contains affiliate links.  For more details about affiliate links, please visit my about page. * * *